The Wi-Fi connection on a sailboat in the middle of the remote, British Virgin Islands tends to be pretty weak, but the strength of connection to the ocean and to SeaTrek's marine science network is always at full bars. At SeaTrek BVI, students have the opportunity to break out of the traditional classroom setting and explore real-life, hands-on marine science.
All of SeaTrek's students are introduced to various marine science topics in presentations or lectures; this knowledge is then applied through hands-on hikes, snorkels, and dives. Beyond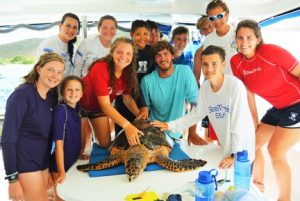 that, students can choose to immerse themselves even deeper into marine science by participating in additional science programs and activities, earning community service or academic credit for their school.
So students, go ahead and power off your smart phones, replacing them with a waterproof slate for counting fish or perhaps some coral monitoring equipment. I know from personal experience as a student myself for two summers that these tools will serve you well! Now, as I reflect back on my second summer of working for SeaTrek, (this time as Lead Program Biologist), I'm really proud of how well the summer went for the students involved in SeaTrek's science program and no, the spotty Wi-Fi wasn't a concern at all. I can share as many posts on Facebook as I'd like, but the most satisfying thing of all to share is my passion for marine science by teaching students at SeaTrek.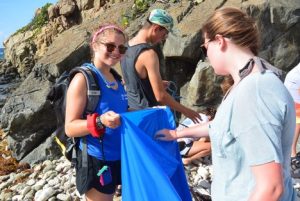 SeaTrek's summer program is designed to introduce students to a wide array of valuable learning opportunities related to marine science, conservation, and exploration. This past summer we had more than 80 students participate in one or more of our science projects to earn community service or just for fun – that's over half of our total students! Of those, 11 students chose to go above and beyond in their participation by choosing a focus topic to research and present in order to expand their learning experience and earn academic credit for their school. After covering a variety of topics and skills that give them hands-on experience with research-based content and techniques, we facilitate them in focusing their interests. Prior to their voyage, students are encouraged to come up with a topic of interest and perform an independent study project. Our well-qualified and professional staff—including certificated teachers, diving and sailing instructors, and marine naturalists—teach our courses and facilitate student learning every step of the way. I was amazed at how much the students learned from working on their academic credit projects, and how much fun they had, too.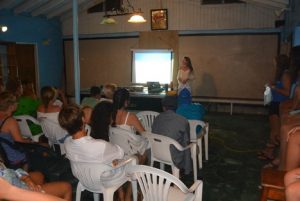 No, the social media puns are not over yet, because instead of skimming through social media feeds, at SeaTrek you can skim through the profiles of different fish species in the REEF.org Fish ID guide. While you're at it, ditch the Netflix and help us net some lionfish! Best of all, would you rather tag your friends in Facebook posts, or help our biology team tag sea turtles in the ocean? Who needs followers on twitter or Instagram when you can follow the path of marine science? Overall, at SeaTrek there's no need to rely on Google maps to find your direction, our staff and our program curriculum help you do just that!
One of the best aspects of our marine science curriculum is that it matches the diversity of the marine life in the surrounding BVI coral reefs – and by that I mean that the program offers a wide array of different topics of interest to choose from! The different program topics I'd like to highlight include REEF Fish Identification, REEF Lionfish Project, Coral Reef Ecology and Monitoring, and Sea Turtle Tagging and Monitoring.
Through REEF Fish Identification surveys, students can assist REEF.org in fulfilling their mission of conserving marine ecosystems for their recreational, commercial, and intrinsic value by linking the diving community with scientists, resource managers and conservationists through marine-life data collection. This involves surveying and cataloguing various reef fish species and submitting that data to the REEF's international online database for further analysis. Some students chose to also focus on the REEF Lionfish Project. Their service involves finding, marking, and cataloguing lionfish species so that SeaTrek staff and BVI researchers can then locate and remove the invasive species from the reef.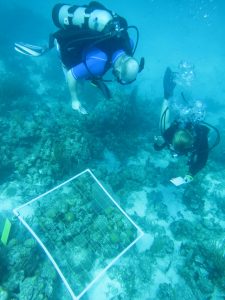 Another great project SeaTrek offers is Coral Reef Ecology & Monitoring. Using SCUBA and underwater monitoring equipment, students collect coral coverage data at several locations, including proposed marine protected areas. Students identify and take photographs of key marine species observed at each site. These data help BVI scientists better understand the health of their coral reefs and develop conservation strategies to protect them.
Perhaps my most favorite SeaTrek science activity is the Sea Turtle Tagging and Monitoring Program. It's becoming one of our most popular and iconic projects; this summer almost 80 students participated in this incredible hands-on conservation activity. Students' participation in turtle tagging involves capturing, measuring, tagging, and assessing the overall health of sea turtles and then submitting that data to the the Association of Reef Keepers (ARK) and the BVI's Conservation and Fisheries Department. In order for their students to participate, families pay a small donation fee, a portion of which, goes to support NAUI's Green Diver Initiative and their conservation projects and scholarship fund.
SeaTrek is a hotspot in terms of connection to the ocean and to a marine science network of people who share similar values; it's an opportunity like no other for students to participate in real marine science! Another way to think about it is this: if "The BVI Environment and the Ocean" were its own page on Facebook, it would have thousands of likes, thanks to the number of students that SeaTrek has influenced over the years. That kind of following is important because it's the people with personal connections to the ocean that will love and conserve it for future generations! To find out more about SeaTrek's awesome science program, visit seatrekbvi.com or email scienceproject@seatrekbvi.com.