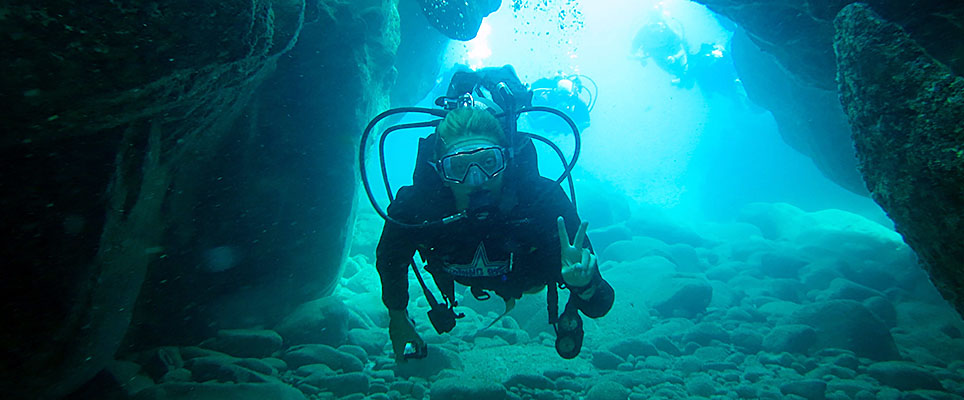 So, you want to be a Marine Biologist? …Or at least learn more about what in the world is going on down there in the Ocean Blue?! Our marine science summer camp voyage is perfect for you!
"I had always planned to be a marine biologist, and FATHOMS gave me the opportunity to see firsthand what that truly means." -Madison H., student
SeaTrek's FATHOMS program offers participants Focused Adventure Through Hands-On Marine Science in the Caribbean's U.S. and British Virgin Islands (BVI). During the 22-day voyage, students live aboard a 48' sailing catamaran. Our yacht will serve as their mobile marine science research station offering countless opportunities to study. Students experience the ecology and dynamics of the living laboratory that surrounds them. Earning community service and academic credit is no problem on this voyage!
FATHOMS centers around the integration of marine science, community service, and cultural interaction throughout the BVI's tropical islands and waters. It isn't only marine biology and ecology. The curriculum, labs and fieldwork address aspects of marine chemistry, geology, and physics. This makes it a truly interdisciplinary curriculum. Ask more about the specialty course options that are available exclusively for FATHOMS students.
CLICK HERE FOR A TASTE OF WHAT YOU'LL EXPERIENCE ON THE BVI FATHOMS VOYAGE!
The community service, research projects, and cultural studies activities enhance student learning. It provides an authentic context in which students can apply what they have learned to real-world scenarios and issues. Throughout the course, students are expected to critically examine and pose solutions to a variety of human-related impacts that negatively affect marine and coastal environments. SeaTrek worked with marine educators and scientists from the U.S. and the British Virgin Islands to design this course. It is an inquiry-based, hands-on marine science program. The marine science camp is filled with opportunities for FATHOMS' students to meet several objectives.
"FATHOMS is not only a great opportunity to improve your diving skills but to also enhance your learning in the marine science field. I personally spent both summers with SeaTrek on the FATHOMS voyage and wouldn't change a thing." – Carson C., student, and intern
Marine ScienceCourse Topics
Tropical Marine Ecosystems & Island Ecology
Scientific & Marine Research Methods
Culture & Natural History of the Virgin Islands
Coral Reef Biology & Monitoring
Water Chemistry & Quality
Ocean Exploration and Technology
Marine Ecosystem Management & Conservation
Minimum of 12 SCUBA dives with the option to receive 2 Specialty Certifications:

NAUI's Introduction to Scientific Diving in Coral Reef Habitats

NAUI's Marine Heritage Awareness Certification
Lectures, Labs and Field Studies:
Lecture style is kept interactive and student-driven. The labs and field studies will help students apply and integrate the content covered in each lecture. Each lab is designed as an extension of a specific lecture and allows students to observe and apply the concepts discussed. Field studies occur in terrestrial and aquatic habitats throughout the islands. They are essential in teaching students how to apply the scientific method to real world scenarios and contexts, which help them develop their focus research projects
With just 9 participants, this marine science summer camp voyage always fills up fast! Don't get left sitting on the dock!
DATES AND COSTS
BVI / USVI FATHOMS Voyage 1
June 15-July 6
$5,400
*Additional Academic Credit Options and Specialty Dive Certifications are available but are not included in the program price. For more details please contact Capt. Monk: 1-(877) GO SAILING (467-2454).