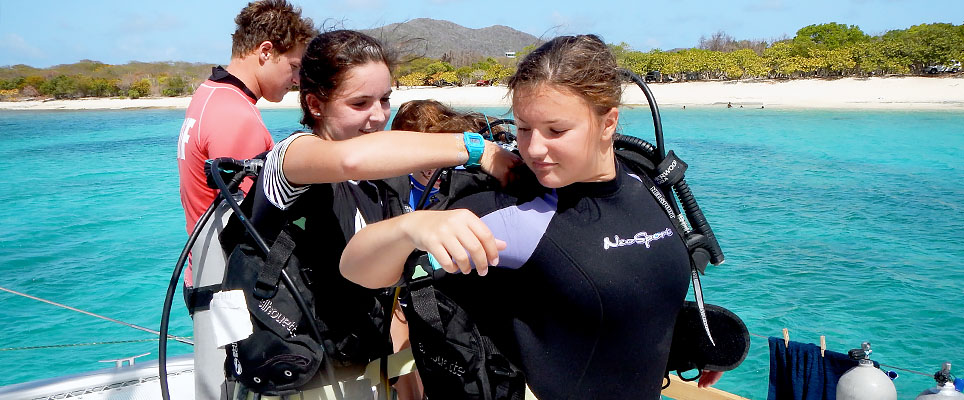 SAFETY is our Top Priority at our Scuba Diving Summer Camp!
SeaTrek offers the most comprehensive dive-training program in the adventure summer camp industry. We are the only summer camp at sea program offering scuba certifications from introductory level for the novice adventurer to instructor level. From beginning snorkelers to advanced divers, SeaTrek can take your scuba skills to the next level.
Students earn internationally recognized certifications from our professional instructors.  Our scuba diving summer camp instructors are members of NAUI. The National Association of Underwater Instructors is the oldest scuba training agency in the United States. It employs a student-friendly teaching method that encourages new divers to build confidence. NAUI's motto is "Dive Safety Through Education". We can also certify PADI divers.
SeaTrek adheres to a very strict code of scuba standards and procedures. Beginning scuba diving camp courses are held in the calm, clear waters of sheltered bays in the British Virgin Islands. SeaTrekkers have ample time to practice new skills under the patient guidance of our instructors and divemasters. After perfecting these skills, our students are ready to start exploring the awesome dive sites of the British Virgin Islands!
Throughout their voyage, our Scuba camp students refine basic skills. They will widen their breadth of experience through supervised dives.
Supervised SCUBA Diving Camp Dives:
Night Diving
Deep Diving
Navigation dives
Wreck Diving
Naturalist dives
Whether a novice or pursuing professional level training, SeaTrek BVI has the program for you! To find out more about our scuba summer camps, please visit our Treks pages.