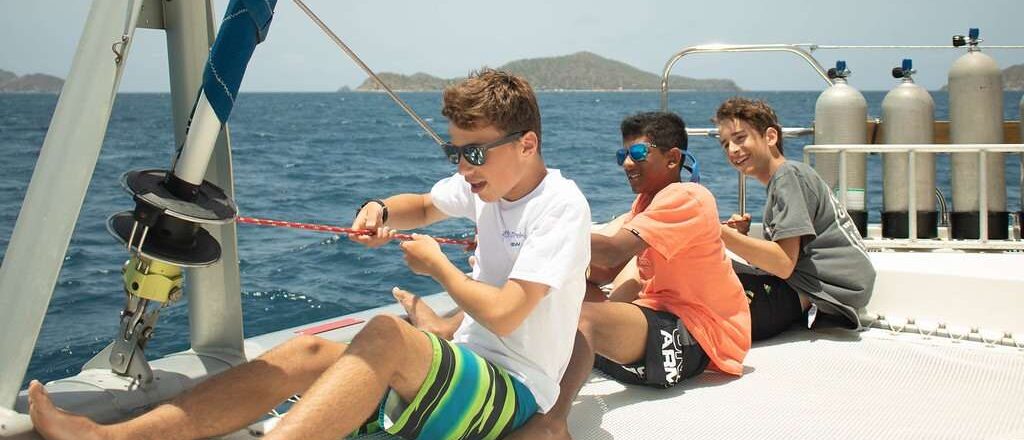 ASA Sailing Certification Courses
You are the crew! Our safe, stable catamarans provide the perfect platform for learning to sail or taking your sailing and boating skills to the next level. Not only are these yachts our home, they are our primary means of transportation between islands. SeaTrek students learn by doing as they take full control of their yachts including sail trimming, navigating and taking the helm as skipper of the day.
If you're wanting to take your SAILING skills to the next level and earn CERTIFICATIONS, here's your chance! SeaTrek BVI employs certified American Sailing Association (ASA) Instructors who can guide you in earning your optional ASA 101 Basic Keelboat Certification and ASA 103 Coastal Cruising Certification.
Let SeaTrek help you become a safe, skilled and ASA certified sailor!
To sign up, please click the "ASA Sailing 101 and/or 103 Sailing Certification" option on the first page of registration when you sign up for your voyage and it will automatically be added to your tuition.
*ASA courses are optional and offered at an additional cost of $400 each. Note that ASA 101 is a pre-requisite for ASA 103, and both can be earned in a single 3-week voyage. ASA 103 cannot be be completed on two-week voyages.