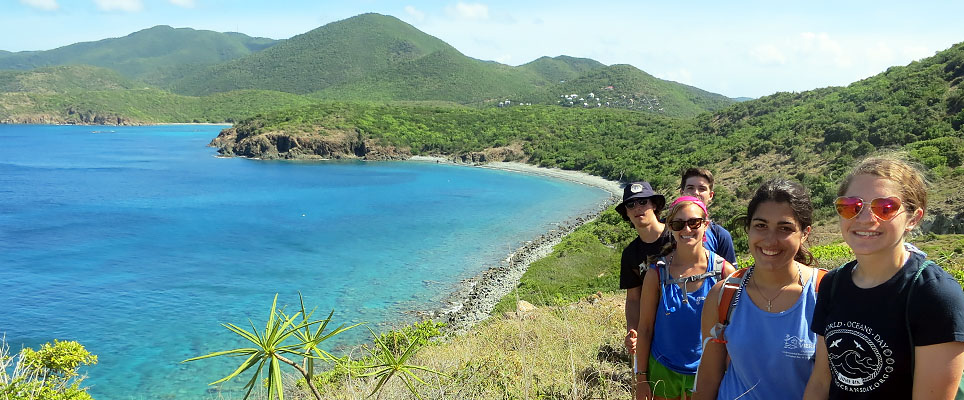 This exciting and often requested Explorer Voyage returns to the SeaTrek calendar with a splash!
Experienced SeaTrekkers realize that every island in the BVI is unique, having its own charm, beauty, and lore. If you have always wanted to explore islands beyond the ones visited during our Main Program, then this is the voyage for you! This summer sailing program for high school students and middle schoolers is more laid back than our other treks. It's designed to progress at a more flexible pace than our Main Program.
The BVI Explorer voyage is one of a kind and truly off the beaten path. The 21-day BVI Explorer Voyage allows participants to choose how they want to spend their time in their very own tropical playground. Our teen adventure camps offer scuba diving, swimming, sailing, hiking, exploring, or relaxing. Wreck diving is a key aspect of this voyage, which includes a dive (weather permitting) to the spectacular Chikuzen wreck. It is one of the absolute BEST dives in the BVI due to its remote location and exceptional wildlife.
Unlike our Main Program in the BVI, the Explorer Voyages do not offer SCUBA instruction so you will need your certifications already. And we hope you are ready to dive, dive, dive because you will have the opportunity to log at least 30 dives! In most cases, program options can include school credit and SCUBA specialty courses like underwater photography.
This voyage fills fast! We only have a couple spots remaining for next summer's sailing voyage. Don't get left sitting on the dock. Register for this voyage or find out more by contacting Capt. Monk: 1-(877) GO SAILING (467-2454).
DATES AND COSTS
BVI Explorer
June 16-July 6  $6,600
July 8-July 28  $6,600
July 30-August 12  $4,990