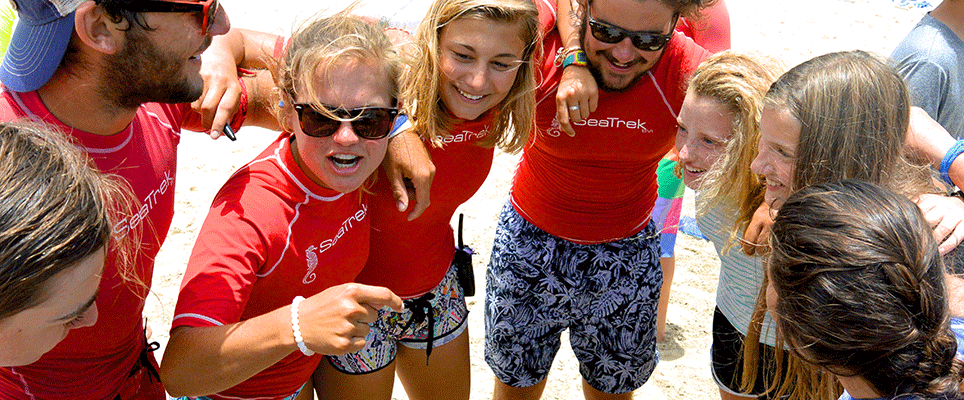 Are you ready to lead and engage students in the adventure of a lifetime?
SeaTrek's hip Intern Program (ShIP™) is designed to introduce participants to the real world of working in the recreational dive industry as a dive leader, boat captain, and/or marine naturalist. Students who apply and are selected to participate in SeaTrek's internShIP™ program have the opportunity to earn their dive leader certifications (divemaster or Instructor), build their expertise in the marine science program, and log the hours required to be eligible for the US Coast Guard OUPV captain's license. Best of all, successful ShIP™ participants qualify to become future SeaTrek staff members.
"Seatrek's ShIP™ program strengthened my leadership skills and supplied irreplaceable skills for the workplace. ShIP™ embraced my individual interests, providing me with outlets to explore them."

-Matt Bengtson, ShIP™ Graduate
Throughout the summer, intern performance and growth are evaluated based on their leadership & mentoring ability, overall attitude & effort, and skill development (dive leadership, sailing instruction, marine science knowledge). SeaTrek is extremely invested in the personal and professional growth of its ShIP™ interns. Through their hard work and commitment to SeaTrek's success, ShIP™ interns become an integral part of the SeaTrek team.
"I can hardly imagine the person I would have been without the ShIP™ program's influence on my life. It is the hardest and most rewarding thing I have ever done. It taught me the value of hard work, and it allowed me to give back to a program which has shaped my life. I am a more disciplined and capable person because of ShIP and I would recommend it to anyone who truly has a desire to better themselves."

-Andrew "Bos" Boswell, ShIP™ Graduate
As crew, interns are responsible for all jobs related to running and living aboard a dive boat—maintenance, cooking, cleaning, trouble-shooting, teaching, mentoring, and managing students. ShIP™ participants also serve as mentors and camp counselors for SeaTrek's teen students. All interns complete an extensive training and leadership program that covers topics including leadership, duty of care, harassment, awkward children, bullying, diversity, providing feedback, making rules positive, and skillful discipline.
"SeaTrek's ShIP™ program was so different from anything I had done before. It was definitely one of the most challenging things I have done in my life, yet it has been by far, the most rewarding experience. The growth… is exponential; the more you put in, the more you are going to get out of it and if you really do put in 100%, you will get back way more than that."

-Andrés "Bappy" Pineda, ShIP™ Graduate

"We're very grateful that James loves Seatrek so much; it has given him so much in terms of leadership skills, character building, teamwork, responsibility, and so much more. He will be well equipped to launch into his independent life.  He came back after last summer telling us it was the hardest thing he's ever done AND he loves it.  Amazing.  Kudos to you and the rest of your staff for the camp itself, but especially for providing such an intentional and thoughtful approach to the intern development program."

-Sarah Goodwin, Mother of James Goodwin, ShIP

"After five years, I fully believe that SeaTrek has helped me become independent and confident in so many things like sailing, diving, and living on a boat with others. I can't imagine what I would be like, or what I would be interested in without SeaTrek being my home away from home."

-Jenna S., ShIP Graduate
If you are interested in applying for ShIP™ please contact Capt. Monk or call (877) 467-2454.
Please note that the application deadline for this highly selective program is October 1st. Applications received after October 1st will be considered for the following summer.