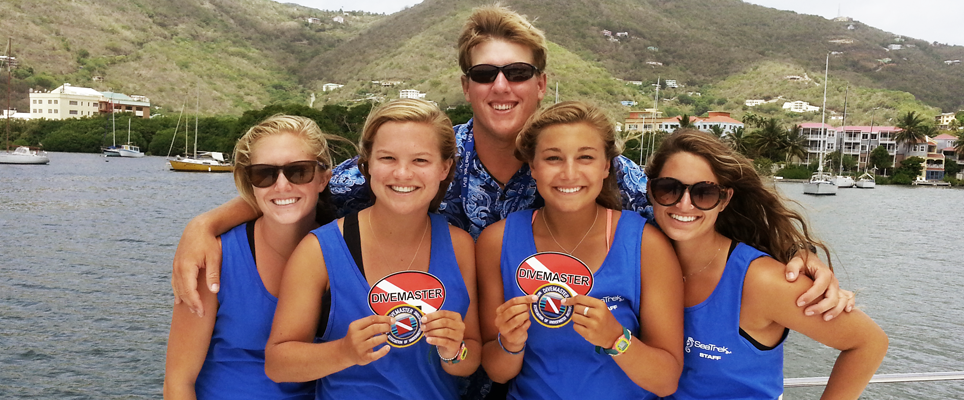 Trek 4: NAUI Divemaster
Trek 4 is for students who want to become a Divemaster. SeaTrekkers who are aged 18 or older; hold Nitrox Diver, Rescue Diver, Master Diver, current CPR/First Aid, and DAN O2 Provider certifications; have at least 60 open water dives; and are ready to work as professional dive leaders and training assistants, are encouraged to enroll in this program. This is a great opportunity to earn a professional certification. You can experience dive leadership while learning how a real diving facility operates.
SeaTrek's intensive three-week program provides hands-on training working alongside our scuba diving professionals. Divemaster candidates gain practical experience supervising students. This supervision takes place during confined and open water training dives.
This intense scuba summer camp has many opportunities for fun as well. You live aboard our 48′ yacht while learning to sail it. You can learn other non-scuba related skills like sailing and marine biology. During island shore time, you have access to kayaks, wakeboards, and other water sports equipment. We also put on beach parties at night.
Unlike other programs that charge an additional fee of $350 or more, SeaTrek supplies all books and training materials for your program. Current CPR/First Aid certification is required.
Students who complete the Trek 4 program earn their NAUI Divemaster certification and can enter SeaTrek's Trek 5 program. You will also be able to enter NAUI's instructor development training.
*Registration and insurance fees payable to the National Association of Underwater Instructors are not included in your tuition. Participation in these programs does not guarantee certification.
DATES AND COSTS
Voyage 1
June 16-July 6
$7100
Voyage 2
July 8-July 28
$7100