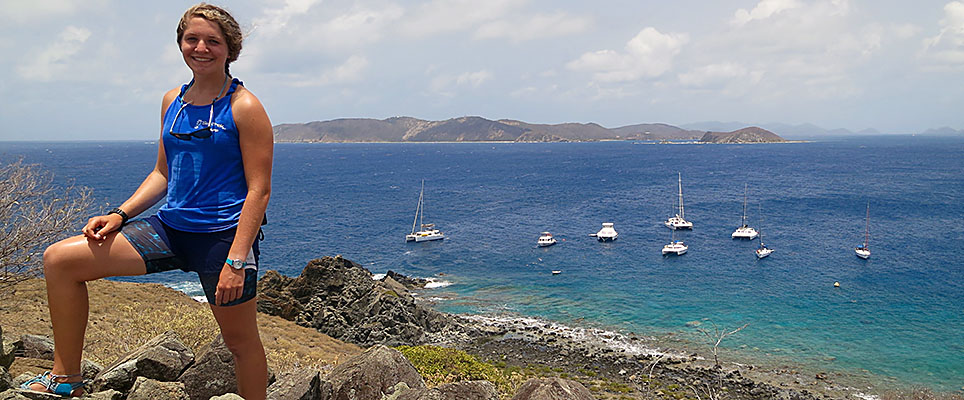 Why SeaTrek BVI Stands Apart From Other Adventure Summer Programs
Set in the crystalline waters of the British Virgin Islands and other islands throughout the Caribbean, SeaTrek voyages offer young people unmatched opportunities for adventure and personal growth. We are a scuba camp, sailing camp and marine biology camp all in one!
Under the watchful eyes of our professional staff, students are immersed in hands-on sailing, scuba, and marine science instruction. Combined with SeaTrek's other activities – water sports, hiking, kayaking, and shore excursions – SeaTrek students are guaranteed to have the adventure of a lifetime.
A program tailored to each individual student
SeaTrek is dedicated to staying small and personal. Our 3:1 student to staff ratio allows us to tailor the SeaTrek sailing, scuba and marine biology programs to each individual student, as well as to go places our competitors can't because of their large size.
While students gain knowledge and skills in all aspects of the program, they have the choice to spend more time on the activities that most interest them. Whether that is earning their keelboat sailing certification, logging community service hours tagging sea turtles, or taking our underwater photography course, the options for accomplishing personal goals are endless.
Our students are the crew
Our students are engaged in and responsible for all aspects of boat life – from skippering and sailing to meal preparation and boat maintenance. SeaTrek students leave our program with a wealth of yachting knowledge, but more importantly, they feel more empowered and confident. The transfer of these qualities and skills over to their lives back home is common, as they become better communicators, team players, and leaders.
A tight knit community is formed
With an emphasis on safety, education and mutual respect, our students and staff form unbelievable bonds as they work, live, sail and dive together. Separated by age, we take up to 48 participants at a time, whereas most of our competitors will take 150 to 200 participants.
By keeping class sizes small, limiting the number of boats, and providing excellent supervision by our experienced and highly-qualified staff, who for the most part have come up through the SeaTrek ranks themselves, we create a home-away-from-home atmosphere out on the water.
We take our 3:1 student to staff ratio seriously
We have a minimum of four staff onboard each boat to provide adequate supervision, accessibility, and expertise in one or more aspects of the SeaTrek program. Each boat is separated by student age and has a captain, marine biologist, NAUI SCUBA instructor, and deckhand with a minimum certification of Divemaster. All are Rescue Diver and CPR/1st Aid Certified with many being CPR/1st Aid Instructors. We also employ an EMT for the program.
Each boat has a combination of male and female staff who undergo extensive training in the skills necessary to be an effective camp counselor, including leadership, duty of care, mentoring, and student management.
We pride ourselves on our safety record and caliber of staff
Safety is our #1 priority, period. We understand the inherent risk involved in sailing, diving and exploring the tropical islands that are the SeaTrek classroom. That's why we adhere to a very strict code of standards and procedures.
We also hold our staff to the highest standards possible because that is what our students deserve. Our staff is the best in the business and because most of them have been SeaTrek campers themselves, their top motivation is to share the same life-changing experience that they enjoyed. All staff-student interactions are centered on a system of values that include responsibility, trustworthiness, caring, and respect.
Hands-on and student-centered learning is what we do
Our SCUBA and sail training instruction is second to none. NAUI employs a student-friendly teaching method that encourages new divers to build confidence and achieve above and beyond the required skill sets. With a motto of "Dive Safety Through Education," NAUI is the oldest SCUBA training agency in the U.S. However, we can certify both PADI and NAUI divers.
Led by our expert staff, students crew 45-foot catamarans and learn the ins and outs of boat life, which includes being "skipper of the day." We also employ an American Sailing Association (ASA) sailing instructor who can issue the ASA 101 Basic Keelboat certification. We are a scuba camp, sailing camp and marine biology camp all in one!
Explore the ocean and uncover your inner marine biologist
Our sailing catamarans also serve as floating marine science classrooms. Our staff biologists introduce students to the tropical ecology and wildlife of the islands and their surrounding reefs. Our science program provides a variety of interactive, hands-on marine science activities that include sea turtle tagging, coral reef surveying, invasive and indicator species monitoring, and reef fish identification. By participating in these science projects, students can earn community service and/or academic credit.
Water sports, hiking, and endless options for rec time  
No matter how hard we've been working during our dive classes or yachting, we always make time to roll out the water sports boats and water toys – kayaks, knee boards, wake boards, tubes and stand up paddle boards. Our biologists can also lead students in a reef snorkel or turtle tagging session.
When ashore our students enjoy hiking through rainforests, exploring rocky intertidal areas, learning about island culture and playing beach games. Every few days students get port time, which is a good time to check in with family and enjoy a hamburger or some ice cream!
No experience required for the adventure of a lifetime
Previous sailing and SCUBA experience is not required. Most of our students have never been sailing or SCUBA diving before they join our program. Our staff is the best in the industry, having years of experience teaching and guiding students all over the world.
It's time to join the SeaTrek family and get ready for a new level of excitement and learning and tap into undiscovered potential. At SeaTrek our students learn more about the world and themselves than they ever dreamed possible. Don't miss out on this life-changing opportunity. Join SeaTrek BVI's Summer Camp at Sea for the Adventure of a Lifetime!