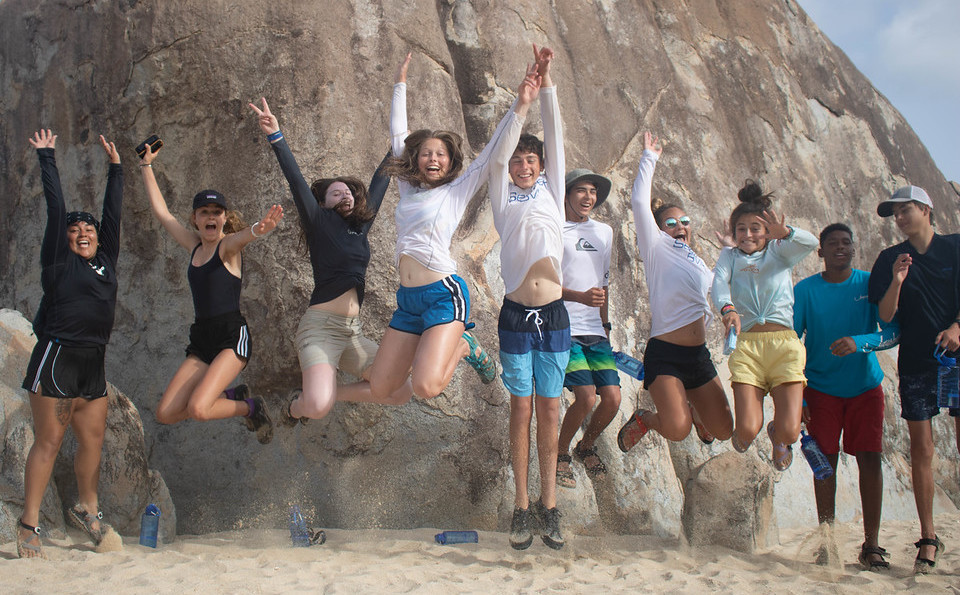 Discover The Real You When You Voyage With SeaTrek BVI!
SeaTrek teen adventure camps offer unmatched opportunities for self-discovery and adventure. They are set in the crystalline waters of the British Virgin Islands. Under the watchful eyes of our professional and well-qualified staff, SeaTrekkers take full control of their live-aboard yacht while learning seamanship, sailing, scuba diving, and marine science. This hands-on instructional approach continues throughout all aspects of each SeaTrek voyage.
To add to your adventure camp, each SeaTrek vessel comes fully equipped with a kayak, kneeboard, wakeboard, and speedboat in tow. Although our programs center around water-based activities, each Trek includes ample adventures ashore. Campers hike through rainforests and explore rocky intertidal areas. They learn island culture from the locals and play beach volleyball.
No experience is necessary to attend a SeaTrek summer camp. In fact, most Trekkers have never been to a teen sailing camp or gone SCUBA diving before. So, whether you've never set foot in the ocean, or have logged hundreds of dives or days under sail, SeaTrek has a program suited perfectly for you. Programs range from introductory scuba to sailing and marine biology instruction. They continue all the way up to advanced leadership training for our most experienced campers.
Your level of scuba diving experience will determine which Trek you will be on. The dates you attend a SeaTrek summer camp will determine which Voyage you will be on. Our Treks provide many different levels of exciting and learning-filled voyages:
To go ahead and secure your spot on one of these amazing Voyages and Treks, visit our Registration page or find out more by contacting Capt. Monk: 1-(877) GO SAILING (467-2454).
SeaTrek BVI is a teen summer camp – we are a scuba camp, sailing camp and marine biology camp all in one!