Embarking on a sailing adventure in the British Virgin Islands (BVI) is a dream for many, but comm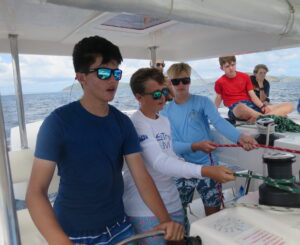 itting to a lengthy program can be a daunting prospect. That's where SeaTrek BVI's 11-day Set Sail program comes into play, offering the perfect blend of exploration, adventure, and skill development in a shorter timeframe. Here are some compelling reasons why you should consider Set Sail:
Test the Waters – Literally!
Not sure if an extended sailing and scuba diving expedition is right for you? The 11-day program provides the ideal opportunity to dip your toes into the world of sailing, snorkeling, and scuba diving. With a try dive included, you can discover if the underwater world is your oyster before committing to a more extended voyage.
Dive into Adventure from Day One
Unlike longer programs where classes and certifications may consume the initial days, the 11-day Set Sail program prioritizes exploration. You'll spend time discovering the BVI's breathtaking beauty, from hiking trails to engaging in thrilling water sports. Dive into the excitement right from the start!
Perfect for a Quick Getaway
For those with limited time on their hands, the 11-day program is an ideal solution. Whether you're a busy student looking for a short escape or a traveling teen leaving the nest for the first time, SeaTrek BVI's shorter program allows you to experience the best of the islands without a lengthy commitment.
Family-Friendly Adventure
Make your family vacation extraordinary by sending your students on a unique island exploration while you enjoy some well-deserved downtime. We have seen many parents send their teens on our epic adventures and then fly down later to reunite with their explorers, creating unforgettable memories together in the BVI.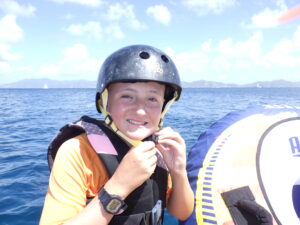 Turtle Tag and More!
Set Sail loves to pay it shoreward, so we provide students with the opportunity to participate in community service from reef fish ID to turtle tagging. Whether you're completely a requirement for school or just getting additional hands-on experience our science team will ensure that every moment is filled with excitement, making your journey memorable and unique.
Forge Lasting Friendships
Set sail creates a dynamic and fast-paced environment, fostering the perfect conditions for forming lasting friendships. Share your adventure with like-minded individuals, creating bonds that extend beyond the sea.
In conclusion, SeaTrek BVI's 11-day Set Sail program offers an immersive and exhilarating experience for those seeking adventure without a lengthy commitment. Whether you're a novice or a seasoned explorer, this program is designed to cater to your curiosity, providing a taste of the BVI's beauty and excitement. Sign up, set sail, and make memories that will last a lifetime!