With over 25 years of experience on live-aboard dive vessels, Captain Monk Daniel is owner and Director of Operations for SeaTrek BVI. He has developed and directed several student diving programs and served as a research diver and dive supervisor for Texas A&M University, San Jacinto College and the Flower Garden Banks National Marine Sanctuary.
So you want to be a NAUI Divemaster? Did you know that most divemasters are actually dive instructors? That's right, most divemasters are instructors who are not teaching at the moment. The path to dive leadership spans a wide range of topics and experiences. The decision you have to make is whether you want to teach or guide or do both.
Experience goes a long way in dive training. You have to practice what you learn and stay active in the sport. After your NAUI Open Water course you should experience the NAUI Advanced class. This will open up a world of new opportunities. Do some more dives; maybe take a dive trip somewhere.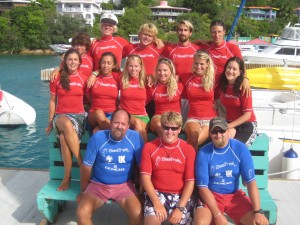 NAUI Rescue is your next step. In the Rescue class you learn accident management skills along with technique. CPR and 1st Aid are required for the Rescue class and the DAN Oxygen Administration course is highly recommended. The Master Diver Course follows, but don't get master diver confused with divemaster. Master Diver gives you the meat and potatoes of diving, while divemaster is a NAUI leadership-level course. In the Master Diver Course you will learn what you need to know to allow you to progress into leadership. It doesn't hurt to take a specialty or two along the way.
Remember, experience is the key. Now you are ready to make the decision, "Do I want to teach and guide or just guide?" Divemasters guide divers; instructors teach people to become divers and do some guiding along the way. You have to decide which way to go. Just remember one thing along the way…you do it because you love it not because you have to.
For more information on SeaTrek BVI, Go Here. To learn more about NAUI Courses and Leadership Training, Go Here.