The Women Divers Hall of Fame is a nonprofit organization dedicated to honoring and raising awareness of the contributions of outstanding women divers. WDHOF grants scholarships to women each year who are preparing for professional careers in diving. SeaTrek student Lauren Ritch was awarded one of the 2018 Scholarships! 
To see entire Scholarship announcement click here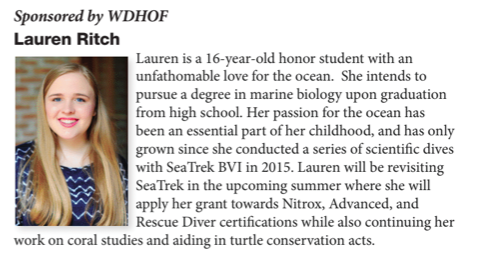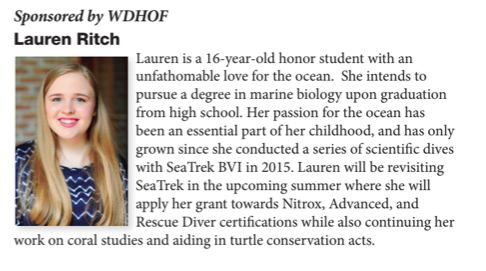 How do you plan to use the Women Divers Hall of Fame Scholarship?
With the grant, I am planning to get advanced, Nitrox and Rescue dive certifications over this summer. The grant is split into two sections: one used for further certifications and the other for equipment. I plan to by my own BCD as soon a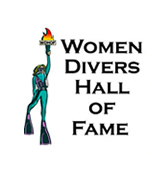 s I get certified for the advanced certifications at SeaTrek! With the BCD, I will be able to take more dive trips throughout the year, making dive trips easier and more cost-efficient in the future.
2. Do you have a favorite marine creature or subject to study?
Oddly enough, I have taken an extreme interest in stony corals! During the summer of 2016's SeaTrek FATHOMS trip, I studied the relation of the staghorn and elkhorn species, and their hybrid. The interest has definitely stuck and I find myself constantly watching videos and documentaries. I hope to be able to rebuild and reestablish large reefs when I am older, and possibly create underwater art and sculpture that act as a substrate for coral species. 
If I do not pursue coral, I would either focus on sharks or research into bioluminescent creatures. Sharks hold a special place in my heart and they need so much help right now with all the illegal finning!
"Without SeaTrek, I would not have had an excuse to get dive certified at a young age, and this grant would not be possible."
3. How has SeaTrek helped you in deciding to pursue marine biology?
While the thought of pursuing this field was never a question to me, SeaTrek greatly helped me confirm my feelings. I have always been so stubborn that I would be a marine biologist, ever since I could remember. FATHOMS was my parent's way of showing me what it is truly like for a marine scientist, and I cannot explain what a blessing it was for me to experience.
My greatest role model is now Angie Cowan and has been for a few years now. She was the one who pushed me to focus my research on coral, and she is to blame for helping my passion bloom! Through people like her, Captain Monk, and my mother, I have been shown that it is okay to have a passion for something. I have also learned that the best way to be happy is to make the things you love your source of income. The water has always been home to me, and SeaTrek showed me that it IS possible for a Northern Louisiana girl to pursue this amazing field.  Without SeaTrek, I would not have had an excuse to get dive certified at a young age as well, and this grant would not be possible.
4. How do you plan to advance in scuba diving? Dive-master one day? Instructor?
I will not stop reaching for more dive certifications until there are none left for me to obtain. Scuba Diving is the greatest thing I have ever experienced, and I want to advance my knowledge in it as far as possible. I would love to become a Dive Master and maybe even teach classes one day. I would like to be able to take groups out on dives and show them how they can benefit the environment every time they go out.
My first open water dive was in a murky lake in Texas that was warmed by a sewer plant close by. My first dive as a certified diver was in the British Virgin Islands.  When I dive, I feel like I am at my best. I am free and I can truly be a part of the underwater habitat, something that, as a child, I thought was only possible if you grew gills. I am thankful for getting to experience diving, and it is safe to say that I am addicted. Nothing could have prepared me for my first time, and I can assure you diving will never become boring to me! 
Sincerely,
Lauren Ritch