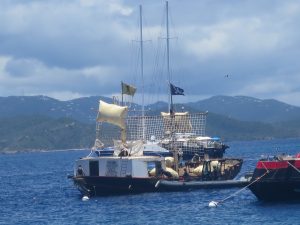 "Come sit by me!" is yelled out, mixing with the soundtrack of Pirates of the Caribbean playing in the background as students climb on to the hardtop (the "roof" of the boat) to claim a front-row seat to the show.
On August 7, 2019, Captain Monk made the executive decision to scrap the tentative schedule for the day and adjust it to allow the students on board to witness what would most likely be a once in a lifetime event. SeaTrek BVI students were able to see the historic sinking of the Willy T, a once popping topside tourist attraction that was damaged in Hurricane Irma's raft in 2017.
Beyond the Reef, a nonprofit organization is making it its mission to take rubble and create new dive sites and artificial reefs. An artificial reef is a man-made structure that provides surface area for species like soft and stony corals to attach, therefore increasing habitats for marine life in the surrounding area. Artificial reefs also create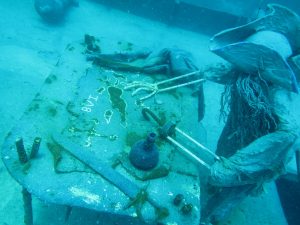 great dive sites for any marine lover. This type of reef is most often found in "sand deserts," where booming life would not typically be found, creating a haven for marine creatures to congregate.
A week after the sinking of the Willy T, once the water and sand had settled, voyage 3 participants had the opportunity to dive the new wreck. The once popular restaurant had been transformed into a diver's play grown with swim-throughs, pirates, and planks to walk. Key Bay off of Peter Island now has a must-see dive site, and SeaTrek is excited to see its growth and the different species that have moved in and made Willy T their home.  Stayed tuned to hear how the Willy T has grown over the year and to learn more about Beyond the Reef.
Share your favorite memories of the Willy T on Facebook, Instagram, and Twitter and stay tuned for more fun blogs and events near you.