SeaTrek BVI, a dream turned to reality. In the early 2000s, Captains Kat and Monk Daniel started a program to provide students an unforgettable experience by teaching them sailing, scuba diving, and marine science, and those ever-important life skills. Since their humble beginnings with just one boat and eight students, the program has since grown to a fleet of five vessels and up to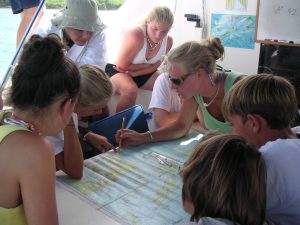 60 students at a time, with voyages in the British Virgin Islands, the Bahamas, and Leeward Islands — all the while holding on to the small company vibes creating a close-knit group of students and staff. For years, SeaTrek has been taking on new and returning students and up to now, all have been first-generation SeaTrekkers, but for the first time in SeaTrek history SeaTrek will be hosting its first second-generation SeaTrekker.
To celebrate this exciting moment, I reached out to Shelley Spillers, a 2004 SeaTrek participant, to hear her story. Shelley graciously agreed to talk to me, and boy am I glad she did. Her story was a hoot. Shelley's story begins in Thailand, where she received her open water scuba certification. Shortly after becoming certified, Shelley's mother decided to sign her up for SeaTrek. As most new SeaTrekkers are aware, no experience is needed, but this information was not made known to Shelley. She convinced herself that she was not qualified to attend the program, and she was in over her head. As she laughed on the phone she said, "I cried all the way to the airport tell
ing my father he was sending his oldest daughter off to her watery death." Once Shelley got to the islands before she had given the program a chance, she called her parents leaving them a dramatic message telling them she wanted to go home. The next morning she was pushing off the docks on the way to a fantastic adventure. She said, "I had the best time ever." So much so that she asked to stay longer.
Shelley still dives today. She even got her husband into the sport of diving. Their family loves boating and
snorkeling. Shelley has been waiting for the day she could send her children to SeaTrek. Her son, Luke, will be joining SeaTrek during the summer of 2020. Luke is into all things adventure, making SeaTrek an excellent fit for him.
Shelley's final words to new SeaTrekkers are don't knock it till you try it because the next three weeks will be an incredible adventure you'll never forget.
SeaTrek is excited to see what new memories and story we will create during the summer of 2020. Stay tuned on Facebook, Instagram, and Twitter for more fun stories and events near you.
Click here for more information!