SeaTrek BVI is proud to present the next in our series of Staff Spotlights – Rio Castro. Each month we will be highlighting an individual staff member so you can get to know us a little bit better. We all come from different backgrounds but have a special bond that truly makes us a family! #SeaT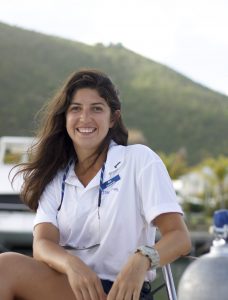 rekBVI #StaffSpotlight #SummerCampAtSea
Rio Castro is the Chief Medical Officer for SeaTrek BVI. She is nationally registered as an Emergency Medical Technician (EMT) and is responsible for taking care of students' and staff's medical needs in emergency and non-emergency situations. Currently, Rio attends Case Western Reserve University in Cleveland Ohio where she studies Chemical Biology and Cognitive Science with an aim towards attending medical school. She has always been passionate about medicine and applying her knowledge to help people. Rio is also very passionate about marine life, nature, diving (holds certification in Open Water, Advanced, and Rescue Diving), and exploration, so SeaTrek has been more than a perfect fit for her! 
1. When was your first summer at SeaTrek?
My first summer at SeaTrek was during the 2019 Season. 2. What is your favorite part about SeaTrek?
My favorite part about SeaTrek is the adventure and community! There is nothing better than being able to explore the beautiful, underwater sceneries and amazing landscapes found in the British Virgins Islands. What makes this experience better for me is that everyone, including students and staff, work well together to have a fun summer. By the end of it, you feel as if you had been traveling with a bunch of your friends.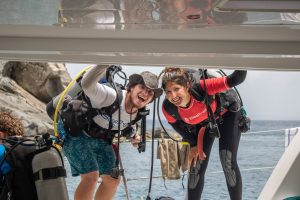 Not to mention, with my job I get to meet and form connections with all of the students in the camp, not just the ones on my boat. I also loved singing the students awake during the early hours of the morning with the help of our Lead Biologist, Anna Ortega.
3. What is your favorite SeaTrek meal?
My favorite SeaTrek meal is grilled cheese and tomato soup!
4. If you could go diving anywhere in the world, where would you go?
If I could go diving anywhere, it would be either Guadalupe Island or in-between the tectonic plates in Iceland.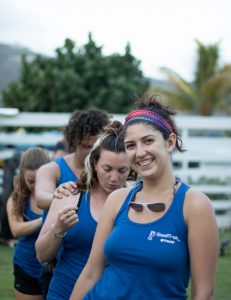 5. What is your favorite Marine Biology Fact?
My favorite Marine Biology Fact: Seahorse males give birth instead of the females
6. Favorite Marine Creature?
My favorite BVI Marine Creature is the Jewel Damselfish.
7. Advice for SeaTrek newbies?
Don't worry about getting seasick, it goes away faster than you think 🙂
8. Describe yourself in emojis!
🔥✌️😎🔥🎤🤡