SeaTrek BVI is proud to present the next in our series of Staff Spotlights – Ray Ball! Each month we will be highlighting an individual staff member so you can get to know us a little bit better. We all come from different backgrounds but have a special bond that truly makes us a family! #SeaTrekBVI #StaffSpotlight
Ray has accumulated about 462 hours underwater since becoming certified and has logged 625 dives as of this January. He has been diving in the Arctic, most of the Great Lakes, the St. Lawrence Seaway, Barbados, Cozumel, Grand Cayman, Little Cayman, Cayman Brac, Bermuda, The Bahamas, the US Virgin Islands, both coasts of Mexico, many of the Cenotes in the Yucatan Peninsula, Curacao, Bora Bora and by the next time you see him, he will have been in Australia diving the Great Barrier Reef and hiking the Great Daintree Rainforest for three weeks!  Not to mention the quarries and rivers in Ohio or the Atlantic coast where he has been diving on the shipwrecks from WW2 including the U352.  He has also been toothing of the coast of Topsail NC where he brought back several Megalodon teeth.  His wide variety of experience makes him an amazing NAUI Instructor, and we always love hearing about his wild adventures!
Learn more about Ray: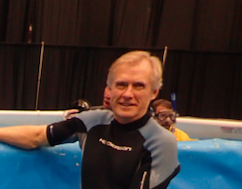 1. When was your first summer at SeaTrek? 2018
2. What is your favorite part about SeaTrek? Watching how much fun the students have sailing and diving.
4. If you could go diving anywhere in the world, where would you go? Grand Turk!
5. What is your favorite Marine Biology Fact? Mangrove trees sacrifice a leaf to get rid of the salt in the sea water they use.
6. Favorite Marine Creature? Angelfish, they eat out of my hand at the aquarium and follow me around as I do underwater maintenance.  They are very curious as to what I am doing in their world.
7. Advice for SeaTrek newbies? Prepare to have the most intense, meaningful, exhilarating summer of your lives!