SeaTrek BVI is proud to present the next in our series of Staff Spotlights – Matthew Gamache. Each month we will be highlighting an individual staff member so you can get to know us a little bit better. We all come from different backgrounds but have a special bond that truly makes us a family! #SeaTrekBVI #StaffSpotlight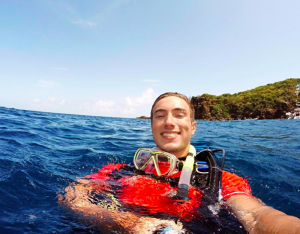 Matt joined SeaTrek as the program photographer in 2017. During his summer he expressed his love for science and will be returning to SeaTrek in 2018 as our Lead Biologist. Matt is originally from Minnesota but is currently resides in Florida where he is earning a degree in Marine Science and Biology at the University of Tampa. Matt is always eager and excited to teach others about the wonders of the ocean! Learn more about Matt below!
When was your first summer at SeaTrek?
My first summer was also my first year working for SeaTrek. I was hired as the Photo Pro for the summer of 2017.
What is your favorite part about SeaTrek?
I love Turtle Tagging! I really enjoy chasing turtles and teaching students hands-on citizen science. Nothing is more rewarding than seeing students thoroughly excited and engaged in science.
What is your favorite SeaTrek meal
Pizza Casserole. I really like sauce and sausage, and the garlic bread really just tops it off!
Favorite Dive?
Diamond Reef, obviously, since corals are my favorite animals! The reef there is healthy and vibrant.
Favorite Marine Creature?
As I previously stated, coral is my favorite creature. They are extremely simple, yet they are difficult to understand. Plus, corals are the foundation of an entire ecosystem!
If you could dive anywhere in the world, where would you go?
I would go back to Grand Cayman. That is where I initially received my scuba certification, and I want to perform research on their declining coral health.
Most memorable moment with SeaTrek?
I vividly remember the first time I went turtle tagging. I collaborated with students to corral the turtle, and our teamwork successfully led us to capture the first turtle of the voyage. I am sure our team looked so graceful in the water!
Advice for newbies?
Just let loose, and have fun! SeaTrek really is a unique experience, so soak up every second of fun and learning that you can!
Describe yourself in an emoji
Any of the big, cheesy smiling emojis fit. I laugh a lot and am almost always extremely positive.
😁
What is one thing people might not know about you?
I will stay around one coral head for an entire dive. I find that if you wait long enough, the cool marine life will come to you. And, typically, it does!