SeaTrek BVI is proud to present the next in our series of Staff Spotlights – Farva Jones. Each month we will be highlighting an individual staff member so you can get to know us a little bit better. We all come from different backgrounds but have a special bond that truly makes us a family! #SeaTrekBVI #StaffSpotlight #SummerCampAtSea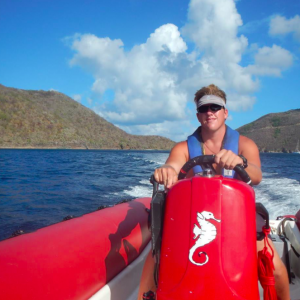 Farva  has been with SeaTrek for 13 years. To say he is an expert in all things SeaTrek is an understatement. He is a NAUI Instructor Trainer, US Coast Guard Captain, and a skilled turtle tagger. You can always find Farva with a smile on his face and a funny story to tell. SeaTrek simply would not be the same with out him! We thank Farva for all of his hard working years at SeaTrek!
When was your first summer at SeaTrek?
All the way back in 2005! They can't get rid of me 🙂
What is your favorite part about SeaTrek?
Getting away from thereal world and the ability to spend so much time near the water.
What is your favorite SeaTrek meal?
Teriyaki chicken and yellow rice.
Favorite Dive?
The Catacombs, Lee Bay, Great Camanoe. There are some really amazing underwater structures there that are always fun to explore.
Favorite Marine Creature?
Sergeant Major aka the Farva Fish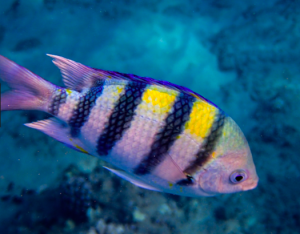 6. If you could dive anywhere in the world, where would you go?
Palau, I went there a while back and would love to return again.
Most memorable moment with SeaTrek?
Day 2 of each voyage leaving the dock at the Moorings base and heading out knowing that all new adventures await. Even though I have done it over and over again, knowing that each time is unique and brings new challenges and memories to come.
Advice for newbies?
To error is human, so make mistakes, but don't do so in vain. Always seek to learn and grow from those errors, striving to never repeat them.