SeaTrek BVI is proud to present the next in our series of Staff Spotlights – Lead Biologist, Anna Ortega. Each month we will be highlighting an individual staff member so you can get to know us a little bit better. We all come from different backgrounds but have a specia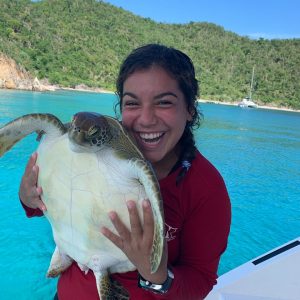 l bond that truly makes us a family! #SeaTrekBVI #StaffSpotlight #SummerCampAtSea
Anna joins us from the great state of Michigan. Anna is set to graduate from the University of Michigan this spring with a Bachelor of Science in Ecology, Evolution, and Biodiversity. Anna's positivity and love for the marine world is contagious. She is a delight to have on the program and makes every hike, science presentation, and turtle tagging experience magical! We thank Anna for all of her hard work at SeaTrek!
When was your first summer at SeaTrek?
My first summer at SeaTrek was working the summer of 2018, although Captain Kat was my middle school science teacher, so I knew about SeaTrek long before I finally got to experience it.
What is your favorite part about SeaTrek?
My favorite part about SeaTrek is the fact that amazing people come together from all over the world to live and learn in the middle of the ocean – that's absolutely amazing! More specifically, though, I love getting to do hands on marine science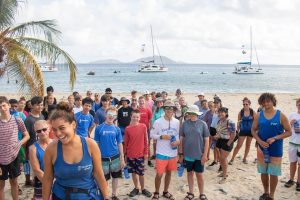 , like the presentation on bioluminescence, that's my favorite. I think doing the lab and identifying plankton under the microscope really makes that presentation special.
What is your favorite SeaTrek meal?
My favorite SeaTrek meal is Posole. It's always lunch on a day we come up from a dive, and it's the best way to warm yourself up. (Unless Captain Monk makes jerk chicken – then that's easily the best.)
If you could go diving anywhere in the world, where would you go?
Other than using the cop-out, "I want to dive everywhere", which is true, I really want to dive in Indonesia. There is so much biodiversity there, and there are so many amazing dive spots.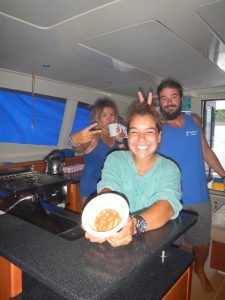 What is your favorite Marine Biology Fact?
I have so many, but I'm going to settle on two: first of all, the ocean is home to hydrothermal vents, aka the only place organisms survive on the spewing chemicals, and not sunlight. Second of all, a group of jellyfish is called a smack. I love that!
Favorite Marine Creature?
I've cycled through so many favorites and back again, but I grew up playing with snapping turtles in northern Michigan, then rehabilitating sea turtles in North Carolina, and then finally seeing them in the wild. So, it's safe to say that turtles will always have a special place in my heart.
Advice for SeaTrek newbies?
I think having a positive attitude is the key to life. Besides, it's really easy to be excited about everything when your days are full of swimming, diving, sailing, marine science, and just being out on the ocean. Enjoy every moment, because you'll look back on these memories for the rest of your life.
Describe yourself in emojis! 
My favorite emoji is the double pink heart, but the one that describes me is the face with the little jazz hands, because I'm always excited about something! 💕🤗