SeaTrek BVI is proud to present the next in our series of Staff Spotlights – Captain Aidan Parker. Each month we will be highlighting an individual staff member so you can get to know us a little bit better. We all come from different backgrounds but have a special bond that truly makes us a family! #SeaTrekBVI #StaffSpotlight #SummerCampAtSea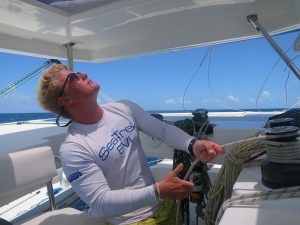 Aidan joins us from across the pond in Scotland. Aidan is currently studying chemical engineering at the University of Leeds. Even with all that studying Aidan still makes time to enjoy diving. Aidan loves to scuba dive and share his passion by teaching others. Aidan also enjoys adventure, if you are on Aidan's boat, be ready for impromptu dance parties and lots of laughs. He is a great addition to have on the program and makes every hike, sail, and Duke Wars, an experience to remember! We thank Aidan for all of his hard work at SeaTrek!
When was your first summer at SeaTrek? 2013!
What is your favorite part about SeaTrek? Scuba Diving!
What is your favorite SeaTrek meal? King Ranch Chicken!
If you could go diving anywhere in the world, where would you go? Iceland!
What is your favorite Marine Biology Fact?
Coral isn't a plant or an animal, but two organisms in a symbiotic relationship.
Favorite Marine Creature? Juvenile Drum Fish!
Advice for SeaTrek newbies? Get involved as much as possible in as many things as possible, you won't regret it.
Describe yourself in emojis! 💪🌍⚽️🏉🏈🎾🏓🏏⛳️🎷🎹📚🏴󠁧󠁢󠁳󠁣󠁴󠁿
Share your favorite memories with SeaTrek staff on Facebook, Instagram, and Twitter and stay tuned for more fun blogs and events near you.