Son of Poseidon – or something like that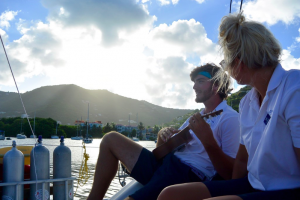 Douglas aka "Dougie" Rotan completed the ShIP Internship program in the summer of 2016. His fascination with the ocean inspired him to keep returning to the British Virgin Islands, and he is now a certified NAUI Divemaster with us at SeaTrek BVI. We thank Dougie for this insightful look into his relationship with the ocean. #SummerCampAtSea #SeaTrekBVI #BritishVirginIslands
One of the most renowned oceanographers in the world, Jacques Cousteau, said, "The sea, once it casts its spell, holds one in its net forever." I am proof of this phenomenon – I love the ocean and all its wonders. Luckily it was at a young age that I discovered oceanography. I want to study this immense natural wonder and its powerful impacts on life on Earth.
I've always fantasized about being the son of Poseidon, partly to do with the Percy Jackson series by Rick Riordan. Sadly, I'm not Percy Jackson, but my interest in the ocean has never wavered. Thanks to family trips to Port O'Connor, Texas, and the island of Nantucket, Massachusetts, I had an elementary understanding of the ocean, primarily limited to fishing, beaching and surfing. It wasn't until I discovered Sea Trek BVI, a summer camp program dedicated to scuba diving, sailing and marine science, that I was able to immerse myself in marine biology.
After years of going to the British Virgin Islands and the Bahamas through SeaTrek, learning aquatic sciences, being mesmerized by scuba diving and ocean life, and understanding boat handling, I was offered an internship. Currently I have a job as a marine biologist and divemaster for SeaTrek BVI. I want this passion to be a part of my everyday life. I cherish the idea of waking up next to the tranquil sounds and sights of the ocean. I am determined to successfully approach any challenges that stand in the way of making this dream a reality.
Oceanography is derived from many disciplines and requires an abundant amount of knowledge. Oceanographers are pioneering the unknown, going down the Marianas Trench, the deepest known part of the world's oceans, for the sake of educating our world about what lies below the deep blue. I want to be a part of this pursuit. When we do the things we truly love, we can say we have truly lived.