In anticipation of summer 2020, SeaTrek is hosting a FIVE part socia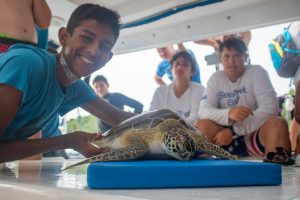 l media contest!!
Each contest will have a theme. A winner from each round will have their video or photo featured on our social media channels (Facebook, Instagram, and Twitter), have a blog post written about them, and the best part of all — be entered in to win the GRAND PRIZE of a Sherwood Amphos dive computer.
Contest 2- SeaTrek Your Way. SeaTrek is made up of three main components; sailing, scuba diving, and marine science. Students were encouraged to submit photos and or videos that highlighted their favorite SeaTreks activity.
Milan Shah is the winner of contest 2. Keep reading to learn about Milan and his SeaTrek experience.
1. When was your first summer at SeaTrek?
2.
What is your favorite part about
SeaTrek?
My favorite part of the trip was catching the turtle
3.
What is your favorite SeaTrek meal?
5. What is your favorite Marine Biology Fact?
When moray eels open their mouths, they're not exhibiting any type of aggression, they're just breathing
6. Favorite Marine Creature?
7. Advice for SeaTrek newbies?
Complete the certification
8. Describe yourself in emojis!🤼🏊🏽‍♂️🖥
Thank you for sharing Milan. We are looking forward to another exciting summer. For your chance to win, submit your videos and photos to Kelsey@seatrekbvi.com.
Contest 3- Laughter is the Best Medicine: SeaTrek is made out of smiles and laughs. It is the goofy moments from the summer that keep us smiling all winter long. Share your goofiest SeaTrek memory with us. Submit a video or photos capturing your goofiest SeaTrek memory with a story to go with it, to
Kelsey@Seatrekbvi.com
 and post on your social media of choice with #SeaTrekSmiles and #SeaTrekBVI.