Are you interested in dipping your to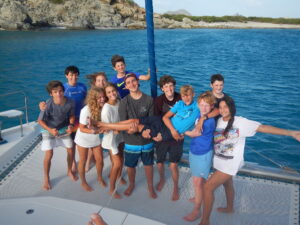 es into SeaTrek? Set Sail with us on an action-packed ten-day adventure. Throughout this 10-day program, SeaTrek's Set Sail students get to experience the best of what SeaTrek has to offer. From exploring the islands to exploring the seas, students see it all. Set it the beautiful landscape of the Caribbean's British Virgin Islands (BVI); students enjoy snorkeling, sailing, and marine biology while experiencing the beauty and culture of this tropical paradise. Students also have the chance to do an introductory "Try Scuba" dive. Set Sail allows participants to test the waters of SeaTrek, or fit an action-packed Caribbean adventure into a busy summer schedule.
Our Set Sail-teen sailing camp allows students to understand boat life from the inside out, and the experience doesn't stop there. For most of the time on program, students trade access to their electronic devices for access to close-knit friendships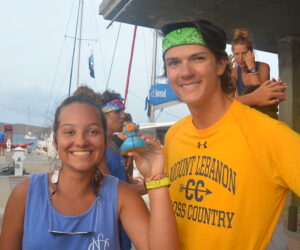 and staff role models, all in a safe and natural environment as they soak in the sunshine and fill their lungs with the fresh air of the tropics. From hiking Majohnny Hill to running the dock at Leverick Bay, our students can constantly connect with others. This year has taught us how valuable human connection is, and this program is the perfect chance to balance out all of the time indoors, completing remote learning and social distancing. Set Sail students can create life-changing memories and lifelong friendships while exploring everything the BVIs have to offer.

"Set Sail was where I discovered my love for all things ocean. I was able to try everything – sailing, scuba diving, snorkeling, marine science, and more – all in 10 days. It was the perfect introduction to SeaTrek and convinced me to return for three weeks the following summer! Everyone was so welcoming, and I left Set Sail with some of my best friends. I absolutely LOVED my time at SeaTrek, thanks to this program! I recommend Set Sail to anyone who is interested in the ocean and adventure summer camp – it's the perfect experience to test the waters!!" Audrey G., South Carolina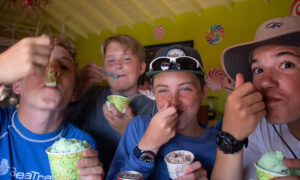 As a sailing capital of the world, the BVI's steady trade winds create the ideal conditions for sailing, snorkeling, scuba diving, water sports, and more. Set Sail students learn the ins and outs of boat life, including cooking, cleaning, provisioning, and maintenance. They work together to crew the vessel, which requires the development of teamwork, leadership, and communication skills.
Every afternoon, sailing camp students will get to choose from various recreational activities, including water sports, beach games, snorkeling, community service projects, or just relaxing. And if socializing with other teens at a tropical beach party is a top priority, no worries—we've got you covered!
You can Set Sail with us this summer by signing up today or contacting Captain Monk at (877) 467-2454 or info@seatrekbvi.com.