SeaTrek BVI is proud to present the next in our series of Staff Spotlights – Captain Savanah Passaretti. Each month we will be highlighting an individual staff member so you can get to know us a little bit better. We all come from different backgrounds but have a special bond that truly makes us a fa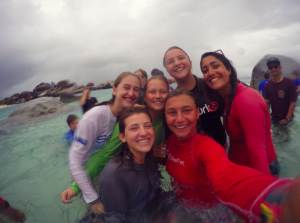 mily! #SeaTrekBVI #StaffSpotlight
Savannah comes to SeaTrek from Saratoga Springs, New York. Savanah's favorite activity at SeaTrek is sailing. She really knows her way around a boat! Not only is she a Captain with us at SeaTrek, she is also a NAUI Divemaster. During the off season, Savannah studies
Mechanical Engineering at the University of New Hampshire. Learn more about Savannah below!
When was your first summer at SeaTrek?
My first summer at SeaTrek was in 2010. 
What is your favorite part about SeaTrek?
My favorite part about SeaTrek is meeting new people.
What is your favorite SeaTrek meal? 
At SeaTrek my favorite meals are pizza casserole and veggie lasagna. 
Favorite Dive?
My favorite dive at SeaTrek is The Pinnacles in Brewer's Bay.
Favorite Marine creature?
My favorite marine creature is a Spotted Eagle Ray.
Most memorable moment with SeaTrek?
My most memorable moment at SeaTrek is probably a collection of all the times the whole boat was singing along to some pop song.
Advice for SeaTrek newbies?
My advice for newbies is to participate in every hike, dive or other SeaTrek activities.