SeaTrek BVI is proud to present the next in our series of Staff Spotlights –Captain Monk Daniel! Each month we will be highlighting an individual staff member so you can get to know us a little bit better. We all come from different backgrounds but have a special bond that truly makes us a family! #SeaTrekBVI #StaffSpotlight #SummerCampAtSea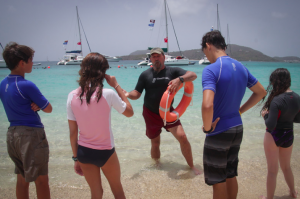 Captain Monk has over 25 years of experience on liveaboard dive vessels. He has developed and directed several student diving programs and served as a research diver and dive supervisor for Texas A&M University, San Jacinto College and the Flower Garden Banks National Marine Sanctuary. He has also worked all over the world in the boating and dive industry. If you are going on vacation, he mostly likely has a connection there! Make sure to check with him before your next trip!
When was your first summer at SeaTrek?
2003, when it all began!

What is your favorite part about SeaTrek? 
I love being on the water, and living on the boats.
What is your favorite SeaTrek meal?
The fajitas are my favorite meal.
Favorite Dive? 
My favorite dive is the Inganess Bay, which is a really cool wreck that we get to dive on voyage.
If you could dive anywhere in the world, where would you go?
 I would love to go back to the Bahamas and do some diving.

Favorite Marine creature?
My favorite marine creature would be the sea turtle.
Most memorable moment with SeaTrek? 
Diving with Kat!
Advice for SeaTrek newbies? 
Pack light and be ready to roll with the punches!