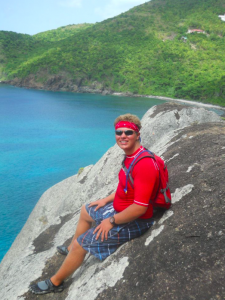 SeaTrek BVI is proud to present the next in our series of Staff Spotlights – Andrew "The Bos" Boswell. Each month we will be highlighting an individual staff member so you can get to know us a little bit better. We all come from different backgrounds but have a special bond that truly makes us a family! #SeaTrekBVI #StaffSpotlight #SummerCampAtSea
Meet Andrew Boswell aka "The Bos." In the winter, you can find Bos studying English at the University of Maine in Orono. Bos is best know for being Capt. Monk's first mate. He is also an exceptional Divemaster (NAUI 55746). This is the guy you go to when you want something to get done the right way. He pays meticulous attention to detail, and is the poster child for Global Awareness. He is always looking for something to fix! Without Bos, our program just wouldn't run as smoothly. Read more about Bos below!
1. When was your first summer at SeaTrek?
My first summer was in 2007! I have been with SeaTrek since I was 11 years old!

2. What is your favorite part about SeaTrek? 
The diving. I love exploring new sites. We dive places no other operators dive. 
What is your favorite SeaTrek meal? 
King Ranch Chicken! It's a Mexican style casserole, so good!
4. Favorite Dive? 
Santa Monica Rock
 5. Favorite Marine creature?
Spotted Eagle Ray
 6. If you could dive any where in the world where would you go?
Probably Palau. I really love wall dives, and Palau is supposed to have the best of the best.
7. Most memorable moment with SeaTrek? 
Diving the blue holes in the Bahamas!
 8. Advice for SeaTrek newbies?
Don't worry about what's going on at home while you're down island. It's a whole other world! Enjoy it!