SeaTrek BVI is proud to present the next in our series of Staff Spotlights. Enjoy!
Andrea comes to us from the beautiful Island of Puerto Rico. Naturally, she is infatuated with the ocean. Snorkeling and diving were everyday activities for her while growing up, so when Andrea first came to SeaTrek she felt right at home! During the offseason, Andrea studies Oceanography and Ocean Engineering at Stanford University. At SeaTrek, Andrea is a divemaster and program biologist teaching students about turtles, corals, reef fish, and more!
When was your first summer at SeaTrek?
My first summer at Sea Trek was the summer of 2012 (5 years ago!)
What is your favorite part about SeaTrek?
My favorite part about it is really hard but as a student it was getting to interact so closely with marine life that amazes me so much, and having so many great teachers who improved my learning, and getting to make such amazing friends that are still a part of my life in such a short amount of time. When I became a staff member that shifted to getting to teach people about what I care so much about, and getting to know the students and learn about what they care about. They are some of the most meaningful interactions I have had.
What is your favorite SeaTrek meal?
FAJITAS!!!!!
Favorite Dive?
I absolutely love diving Joe's cave, it has some of the most amazing reefs and marine life in the BVI, and the purple rocks at the bottom look like dragon eggs.
Favorite Marine creature?
Cuttlefish! But that you can find in the Caribbean: Elkhorn Coral or Juvenile Smooth Trunk Fish.
Most memorable moment with SeaTrek?
The first time I did the night dive at Leverick
If you could dive/vacation any where in the world, where would it be?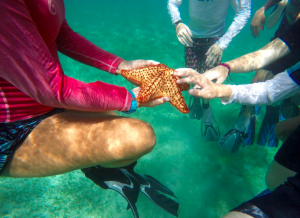 I want to visit Iceland, and dive in a plate boundary.
Advice for SeaTrek newbies?
The best advice I could give is to breathe and let yourself immerse yourself in Sea Trek and enjoy the moment. These will be some of the best days of your life, make sure you give yourself