SeaTrek BVI is proud to present the next in our series of Staff Spotlights – Lead Biologist and Divem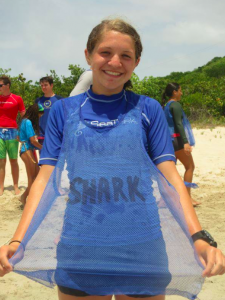 aster Ally Marter. Each month we will be highlighting an individual staff member so you can get to know us a little bit better. We all come from different backgrounds but have a special bond that truly makes us a family! #SeaTrekBVI #StaffSpotlight
Ally is a small town girl from Pinconning, Michigan. After growing up fishing on Lake Huron, she always loved being near the water and knew from a young age that she wanted to become a marine biologist. Her passion and enthusiasm for marine biology is apparent within minutes of meeting her! After going through the ShIP Internship program with SeaTrek, Ally realized that the one thing she loved more than learning about the ocean, was teaching others about it. Learn more about Ally below!
When was your first summer at SeaTrek?
My first summer at SeaTrek was in 2013.
What is your favorite part about SeaTrek? 
My favorite part about SeaTrek is definitely the people and the chance to get hands-on with marine science!
What is your favorite SeaTrek meal? 
My favorite SeaTrek meal is definitely chicken fajitas, even though cooking that meal is quite a process. It's fun to get the students engaged in the hard work of prepping all the ingredients, because the result is delicious. Plus, we have brownies for dessert with that meal- and chocolate is life (
if you need proof, ask Andrea).

Favorite Dive? 
You may roll your eyes, but every dive is my favorite dive :). I guess if I had to pick, I'd say "The Aquarium," off of Virgin Gorda. It has some of the highest concentrations and diversity of fish out of many dive sites – and I just really love fish!
Favorite Marine creature?  
My favorite marine creature is definitely a shark, specifically whale sharks. We don't see a large amount of sharks in the BVI, but it makes it that much more special when you catch a glimpse of a Gray Nurse Shark or maybe a Caribbean Reef Shark. We've yet to spot a Whale Shark at SeaTrek in the BVI- but I'm confident that Boswell will find one eventually 🙂 🙂
If you could dive anywhere in the world, where would you go
If I could dive anywhere in the world, I would like to do some diving in the Cocos Islands off of Costa Rica. That's one of the best places to catch a glimpse of massive schools of hammerheads!

What is your most memorable moment with SeaTrek? 
It's impossible to pick one, but my most memorable moments at SeaTrek are always something to do with the wonderful, unique environment of the BVI, and the wonderful, unique people that SeaTrek brings together to learn and experience life on the ocean.
What advice do you have for SeaTrek newbies? 
My advice? Don't take any single moment at SeaTrek for granted. Treat it as the privilege it is, and you'll learn and experience more than you ever thought possible.