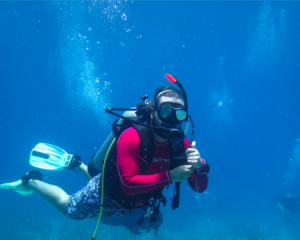 SeaTrek BVI is proud to present the next in our series of Staff Spotlights. Each month we will be highlighting an individual staff member so you can get to know us a little bit better. We all come from different backgrounds but have a special bond that truly makes us a family! #SeaTrekBVI #StaffSpotlight Alex Buckner aka "Bucky" comes to SeaTrek from Memphis, Tennessee. This southern boy is a hardworking Divemaster with us at SeaTrek. He is one of those guys you can really trust to get the job done! In the off season, Bucky attends the University of Arkansas in Fayetteville, where he studies Biomedical Engineering. In his future he hopes to become an orthopedic surgeon helping injured athletes. Learn more about Bucky below!
When was your first summer at SeaTrek? 2012 was my first summer.
What is your favorite part about SeaTrek? I really enjoy the sailing and all the different kinds of people you get to meet from all over the place.

What is your favorite SeaTrek meal? King Ranch Chicken for sure 
What is your favorite SeaTrek dive? I would have to say the Chickuzen is my favorite dive; every time I've been on that dive I've seen something that took my breath away. 
What is your favorite marine creature? Yellowtail Damselfish 
What is your most memorable moment with SeaTrek? This past summer I got the opportunity to
go on our Leeward Island Explorer trip, and it's very hard for me to pick a single moment that was the best part, but the entire trip was definitely my favorite SeaTrek experience. 
What advice do you have for SeaTrek newbies? Don't hold back when you're on the boat. Take advantage of every opportunity you're given to participate. You'll only regret the chances you don't take.