SeaTrek BVI in the Off Season: A Behind the Scenes Look
When I was a student at SeaTrek I never really thought about all of the effort that went into making sure the program ran smoothly. For all I knew, magical ferries could have stocked the boats with food, checked all of the electronics, completed and filed the paperwork, and fine-tuned the schedules. Though I like to think of myself and my fellow staff members as magical fairies, unfortunately that is not true. It wasn't until I became a staff member that I fully understood how much time and work goes into making SeaTrek run as smoothly as it does. This blog is a look into what goes on behind the scenes in the off season with SeaTrek BVI.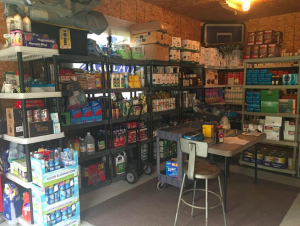 Summer prep is sort of like Christmas. It begins the day after the previous year's Voyage 3 ends. We make lists, check them twice, and act like little elves getting everything ready for the next summer. We inventory, service, and put certain things – like our scuba gear – back in storage in the BVI. Some equipment is shipped back to our home base in Michigan. Other items, like leftover unopened food items, clothing and SeaTrek merchandise are donated to local families in need as part of our Pay It Shoreward and SeaGiving programs. After returning to our off-season homes, some of the staff, lead by Capt. Monk and Capt. Kat, spend another month or two wrapping up things from the summer while simultaneously looking ahead to the next summer. It's time to get those boats filled back up with our next group of eager SeaTrekkers!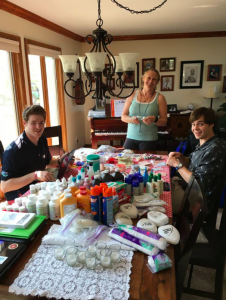 The real action starts back up in May, where all of the senior staff are invited to the North Pole (also known as Flushing, Michigan the home of Monk and Kat) to do various things preparing for summer. Before the staff arrive in Michigan, Kat puts in many large orders to get all of the food. She hires some local elves to help her label and organize each and every box of food.  I have been around a while, but that system is so complex I don't even try to understand it. Kat has the menu and food down to a science.
Upon arrival for our annual "May Meeting" we get straight to work. Kat has us help her restock and organize first AID kits, organize paperwork, check electronics, and much more. The science team meets to discuss all the students signed up for community service and academic credit projects. We also sit down and discuss the schedule and logistics. Even though SeaTrek BVI has been running for 13+ years, we still make schedule changes! We go over what worked, and what didn't from the previous summer and make minor changes in order to make sure the program runs as smoothly as possible.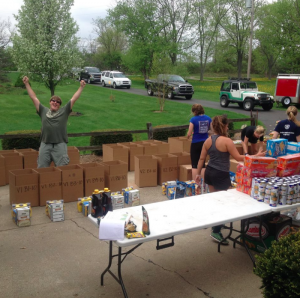 The next morning, we dedicate an entire day to organizing and packing food into boxes. Each box is labeled with the voyage, and a number to help us keep organized once down in the BVI. This process normally lasts from 9am to 5pm. Take a look at the photos to fully grasp how much food we are dealing with. Once the boxes are all packed, we break for a BBQ in Monk and Kat's lawn. Though this part isn't essential to summer prep, it is essential to complete the May Meeting and our staff bonding. It is time to catch up, eat s'mores, play a little corn hole (aka. beanbag toss), and enjoy some friendly competition. After all, at SeaTrek we're family and that's what it's all about!