Summer is right around the corner, and the holidays are the perfect time to give the gift of adventure or stock up on necessities for your summer! Check out our 2023 Holiday Gift Guide, our top gift ideas for your mermaid or merman!
SeaTrek Beanie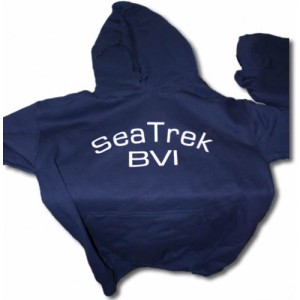 While we wait for warmer weather, keep your ears toasty with SeaTrek's new North Face beanie. With a soft fleece ear band and classic fit, this holiday gift will get any SeaTrek fan through the winter months! Perfect for stocking stuffers and Monk's current favorite as a Michigan resident. Brrr.
SeaTrek Hoodie
A must-have gift for your merman or mermaid this holiday is a Seatrek hoodie. A SeaTrek sweatshirt is a perfect item to throw on after a night dive while enjoying your hot chocolate or stargazing on the bow. When the sunsets, the breeze off the sea feels cool, and you will want a comfy sweatshirt to relax in after a long day of adventure.
G-Shock Casio Sports watch
The built-for-on-the-move watch stands up to the daily activities of SeaTrek, from hiking to diving; this watch gets the job done. A timing device is a must-have piece of diving equipment, and the G-Shock Casio Sport is water-resistant up to 200 m (660ft), so it more than has you covered as a recreational diver.
Click Here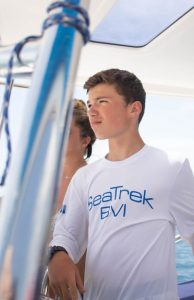 SeaTrek Sun Shirt
Keep those shoulders from burning on a sail, during shore time, or on a hike with the lightweight UV protection sun shirt. Unlike cotton, this 100% polyester interlock jersey wicks moisture away from the body and dries quickly. The lightweight, breathable shirt is an excellent addition to your wardrobe.
Fleece Sleeping Bag
The SeaTrek fleece sleeping bag is the perfect weight for the tropical climate you'll experience while voyaging with us. You will not need your traditional sleeping bag while in the BVI. The fleece bag is durable and lightweight, dries fast if caught in a moonlit drizzle, and, most notably, it is compact and easy to pack.
Finally, Masks, Snorkels, and Fins; What fun!
SeaTrek has curated a top of the line selection from TUSA!  As a student at SeaTrek BVI, you provide your own mask, fins, and snorkel. So let us take the "guess and stress" out of what equipment will be best, SeaTrek has coordinated with Tusa to curate a collection of gear perfect for your SeaTrek snorkeling and diving adventures and offer you a 10-25% savings off the retail price! So give the gift of comfort and style this holiday season!
TUSA Solla Full Foot Fins
Full foot version of SF-22 Solla. Powered by ForcElast Technology
TUSA patented 20° Angled Blade Design (A.B.D.)
Newly designed anatomic foot pocket enhances comfort
Three channel blade with crescent tip maximizes propulsion
Reinforced blade side-rails and vents fine-tune performance
Colors: Black or Blue with black accent
TUSA SP-580 Imprex II Hyperdry Scuba Diving Snorkel
Hyperdry System
Large capacity drain chamber and oval purge valve with internal purge channel
Ortho-consciously designed mouthpiece for ultimate comfort
Crystal silicone flexible neck
Colors: Black, Cobalt Blue, Flash Yellow, Translucent
TUSA M-212 Freedom Ceos Scuba Diving Mask
Low profile, low-volume 2-window teardrop design
Equipped with Freedom Technology
Skirt mounted Quick-Adjust Buckle System
Round-edge skirt for maximum fit and comfort
3-D strap for ideal anatomical fit
Colors:
Mask frame options: Black, Pink, Cobalt Blue, Orange, Light Blue, Yellow, Green, Translucent
Let's see your favorite SeaTrek gear! Share your photos decked out in your SeaTrek gear on Facebook, Instagram, and Twitter, and stay tuned for more fun blogs and events near you.