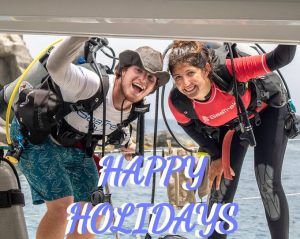 Summer is right around the corner, and the holidays are the perfect time to give the gift of adventure or stock up on necessities for your summer! Check out our 2019 Holiday Gift Guide our top 5 gift ideas for your mermaid or merman!
1) A spot on our main program:
Main program Voyage 1, 2, and 3 provides your water-loving child the opportunity to learn about the marine environment, scuba dive and sail. As well they will make life long memories and friends and can earn community service hours! No experience needed!!
Or, if the salty soul in your life is already certified, snag a spot on our Explorer Programs! These adventure-packed trips allow students to explore some of the most remote islands in the Bahamas and the Leewards Islands. Your child's days will be filled with diving, hiking, and lots of laughs. The gift of a SeaTrek Voyage will be sure to leave a lasting impression!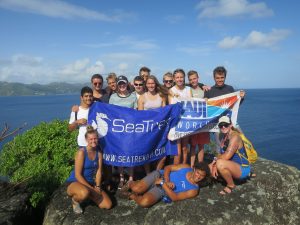 2) Limited Edition SeaTrek Bag: 
This SeaBag is the perfect size for a summer adventure. It's just the right size to pack all your Seatrek essentials from your clothes to your fleece sleeping bag and will keep everything dry- not only while at sea but also when your bag gets set out on the airport runway or in a baggage cart during one of those sneaky tropical rainstorms.
3) G-Shock Casio Sports watch:
The built for on the move watch stands up to the daily activities of SeaTrek from hiking to diving; this watch gets the job done. A timing device is a must-have piece of diving equipment, and the G-Shock Casio Sport is water-resistant up to 200 m (660ft), so it more than has you covered as a recreational diver. 
Keep those shoulders from burning on a sail, during shore time, or on a hike with the l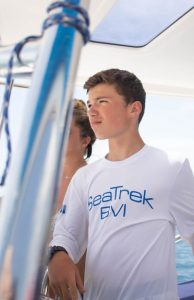 ightweight UV protection sun shirt. Unlike cotton, this 100% polyester interlock jersey wicks moisture away from the body and dries quickly. The lightweight, breathable shirt is an excellent addition to your wardrobe.
5) SeaTrek Hoodie:
The final must-have gift for you merman or mermaid this holiday season is a Seatrek hoodie. A SeaTrek sweatshirt is a perfect item to throw on after a night dive as you are enjoying your hot chocolate or while stargazing on the bow. When the sunsets the breeze off the sea feels cool, and you will want a comfy sweatshirt to relax in after a long day of adventure. 
Let's see your favorite SeaTrek gear! Share your photos decked out in your SeaTrek gear on Facebook, Instagram, and Twitter and stayed tuned for more fun blogs and events near you.