This essay was written and submitted by Ava, a SeaTrek BVI alum. Ava will be attending school in the fall to pursue her dream in marine science. SeaTrek would like to say a big congratulations to Ava!! We are excited to see what the future holds for you.
The Earth has a population of over seven billion people, five expansive bodies of saltwater, and seven massive slabs of rock called tectonic plates. The dynamic and com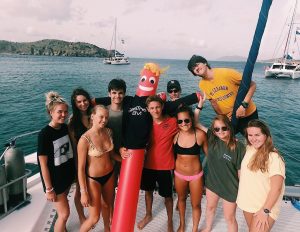 plex beauty of this world fascinates and intrigues me. I have always had a passion to travel and explore new environments, especially the underwater world. Up until a few years ago, my adventures didn't go beyond watching nature documentaries on my Lazy Boy in the basement. I became obsessed with ocean documentaries and dreamed of escaping my everyday life to dive into turquoise blue waters and experience marine life firsthand. I resigned myself to the fact that I would have to wait until I was much older to embark on these travels. However, everything changed one day when I discovered a path to my dream.
After school in 10th grade, an internet search for "tropical scuba diving experiences" revealed a camp called SeaTrek BVI. This camp was for teens who wanted to become certified scuba divers and sail the British Virgin Islands for three weeks on a 48-foot catamaran. Activities also included boat navigation and hands-on learning about marine biology. I asked my parents for permission to go, but they said it was too expensive. Not willing to give up so quickly, I researched further and learned that scholarships were available. I applied by writing an essay about my interest in marine life. Shortly after, I was notified that I received a scholarship and could begin planning my adventure. Before I knew it, I was rolling my heavy suitcase into the airport and boarding a plane to Miami for the first leg of my trip.
I was nervous and excited, flying alone for the first time. After a few connecting flights, I landed in St. Thomas. I was greeted by a friendly SeaTrek staff member who led me to a ferry to Tortola. I remember the ferry ride between the islands vividly. The wind was blowing a salty breeze into my face, and the ocean was bright blue, lined with a ribbon of white sand. For the first time, instead of wanting to hide away and escape my environment, I wanted to experience as much as I could.
In Tortola, I boarded the catamaran with like-minded teen campers. Filled with excitement, we were whisked off to sea to begin our diving lessons. With a mask, scuba tank, and fins, I dove into the blue abyss. A feeling of exhilaration and freedom overwhelmed my senses. I was now part of the captivating and mysterious aquatic world, filled with secret treasures and magical creatures. I was in awe of the diversity of marine life. The delicate tentacles of the octopus, smooth skin of the dolphin, and serrated teeth of the nurse shark were finally within my reach.
As I swam between large, fluorescent coral reefs, my life stressors disappeared. I felt light as a feather, both physically and mentally. I never wanted this experience to end. The boat crew taught us that coral reefs are believed to have the highest biodiversity of any ecosystem on the planet. We also learned that they are endangered along with nearly all species of sea turtles. It was frustrating to hear how pollution is affecting marine life. I then decided that I would pursue a career in marine biology to better understand and protect this vulnerable ecosystem. My passion for adventure and exploration now had deeper meaning. I developed a sense of personal responsibility to protect our oceans and lakes for future generations.
After returning home, I reflected upon my journey. Seeing the beautiful, yet vulnerable environment made my drive and passion even stronger. I have a new purpose and excitement about making a difference in the world. I know there will be many more adventures in my life, but I will always value this experience as pivotal to my growth as a person, community member, and environmentalist.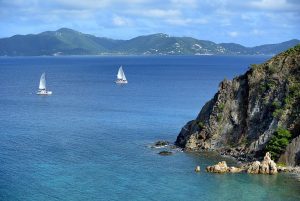 Share how your SeaTrek story on Facebook, Instagram, and Twitter and stay tuned for more fun blogs and events near you.