Hi everyone, my name is Kaitlin and I am the incoming Lead Biologist for SeaTrek 2021! come from the land-locked state of Colorado, over a thousand miles away from the ocean, and always am asked: What got me intere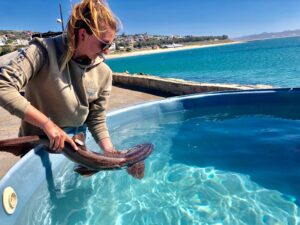 sted in marine science?
It started in my elementary school, where I poured over the small selection of books about sharks, dolphins, corals, and whales hidden in the back corner of our library. Each animal's uniqueness ignited a curiosity that only grew as I did. Eventually, I decided to pursue a degree in marine ecology at the University of San Diego. Before attending university, I was fortunate enough to visit the ocean on family vacations and summer camps, where I got to jump in head first (literally) into the marine world. One of these trips included being a part of the SeaTrek FATHOMS voyage in 2015!
It wasn't until university that I came to realize how much we already know about the ocean, even though we have only explored approximately 5% of the marine world. From larval ecology to current circulation, the ocean exists in a perfect balance to sustain all life on earth, which only reinforced my belief that I pursued a career in the right field.
Fast forward to my junior year at university; I decided to go abroad to South Africa and intern with an organization called Oceans Research for a required internship credit, rather than be a research assistant for one of my professors. I remember my decision to fly halfway around the world to get hands-on experience with field research ultimately boiled down to my love for the apex predators of the sea: SHARKS. And what better way to introduce yourself to shark research than going to the "sharkiest place on earth?" I went back to South Africa two more times after graduating to work for Oceans Research.
Now let me warn you, shark research is far from glamourous.
A typical day of shark research starts early in the morning to catch the local great white sharks of South Africa at their peak activity. From dumping blended up sardines into the water, to drilling bait heads to draw sharks to the boat – chum was the new perfume.
On our first expedition to the infamous Seal Island as seen on Shark Week, my fellow interns and I saw our first great white shark. It circled lazily around the boat, checking each of us out in turn.
After just a few visits to collect data on the sharks of Seal Island, I recognized them by their scarring. Here is where I learned the importance that these predatory species have in maintaining a balanced ecosystem, and why shark conservation is vital to our future on earth.
As an official staff member for Oceans Research, I was granted the opportunity to develop my own research project. From the beginning, I knew I wanted to work with sharks, but that was about it. After two months of reading nearly one hundred research publications and 20+ project proposals later, I finally landed on a project working with hammerhead sharks, a species vulnerable to extinction. Commercial fishing practices place a heavy toll on shark populations. I aimed to find a type of deterrence technology that targeted sharks' unique electrosensory system to repel them from baited hooks. My hopes for this project are to find a way to protect sh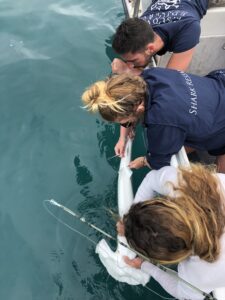 arks from being accidentally caught without negatively impacting the commercial fishing industry and costing businesses money.
If I did not travel abroad to South Africa to simply 'gain experience,' I don't believe I would have found a field of research that genuinely sparked my interest. My advice to everyone is to dare yourself to reach beyond your comfort zone and go for a program that speaks to your interests. It will challenge you in more ways than you can think of and even discourage you at times, but once you overcome the many challenges associated with marine research, the reward is absolutely worth it.
Looking forward to this upcoming summer of 2021, I am indescribably excited to join the SeaTrek BVI team. As the incoming Lead Biologist, I aim to share my passion for marine science in a way that highlights its importance for us as human beings. I am known to always have a full database of science fun facts with me to engage with students and ignite their own curiosity while in the field or at home. Please don't hesitate to reach out to me with any questions and/or fun articles about our marine species at kaitlin@seatrekbvi.com! Share your academic goals with us on Facebook, Instagram, and Twitter and stay tuned for more fun blogs and events near you.