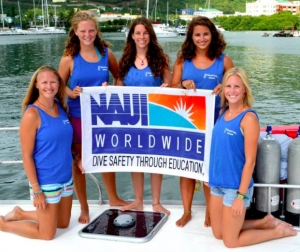 This Island Times blog entry is the fifth in a series of personal essays illustrating how SeaTrek BVI and NAUI have impacted Kasey Fox, former SeaTrek student and intern, who is now a full time staff member, dive instructor and instructor trainer. We thank Kasey's mom, Kelli, for parental perspective on Kasey's experience with SeaTrek BVI and NAUI.
I just returned from Marathon, Florida where my daughter, Kasey Fox, was part of the dive team being filmed for a NAUI Worldwide promotional video production. In 2015 NAUI launched a new marketing campaign: The Definition of Diving – Where Leaders Dive. Because Kasey is a NAUI Instructor Trainer, a SeaTrek BVI staff member recommended Kasey for the project. The filming took place over several days – both in the classroom and underwater. It was a great opportunity and very exciting for her to be a part of the production.
I feel that Kasey was offered the chance to take part because her hard work at SeaTrek has paid off. Kasey attended her first voyage at SeaTrek her junior year of high school. Over the next few summers, she progressively earned various NAUI Dive Certifications, including Instructor Trainer and became a SeaTrek staff member and Assist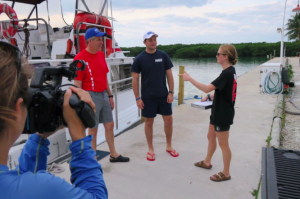 ant Program Director. In addition to the certifications, the SeaTrek program educated her in real life experience and skills. She developed an inspiring level of personal empowerment, leadership skills and passion for the environment. As she is approaching college graduation from The University of Colorado with a degree in Biology, she is equipped with an abundance of skills that college alone cannot provide.
Captains Monk and Kat Daniel, Angie Cowan and the entire SeaTrek staff are committed to running a top-notch program. Not only do they provide an amazing camp experience where kids learn to dive and sail, they also teach leadership skills, work ethic, personal empowerment, environmental responsibility and a very strict code of standards and ethics.  I'm very grateful for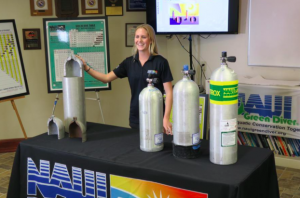 the experience that my daughter has had with SeaTrek and NAUI!