In honor of Earth Day 2017, SeaTrek BVI wanted to help spread the word about a really unique and important waterway cleanup event that was organized by our friends at NAUI Worldwide and the NAUI Green Diver Initiative in Tampa, Florida, and included some of our very own SeaTrek BI staff. Check out NAUI's recent press release that summarizes the event and discusses plans for doing similar projects in the future. And stay tuned for upcoming blogs about how SeaTrek BVI is supporting ocean conservation, education and outreach efforts in the U.S. and in our adopted home of the British Virgin Islands. To find out more, stay tuned to our social media sites and visit our Pay It Shoreward page and learn more about our up-and-coming non-profit, SeaGiving: Give and Sea Change!
The Results are in for the Gasp – Our Beads of Tampa Bay Survey and Clean-Up Project: Nearly 100 Pounds of Beads and 70 Pounds of Trash Collected
Tampa, Fla., (April 25, 2017) – With funding from a Tampa Bay Estuary Program (TBEP) Mini Grant, the NAUI Green Diver Initiative (GDI) partnered with the Center for Open Exploration (C4OE) this past Earth Day weekend to carry out the inaugural Gasp – Our Beads of Tampa Bay Survey and Clean-Up Project.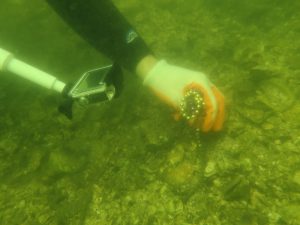 On Sunday, April 23, twenty-five scuba divers plunged into the Seddon Channel off of Davis Island in downtown Tampa to do their part in support of Earth Day and the Hillsborough 100 Conservation Challenge, spearheaded by the Hillsborough County Soil and Water Conservation District. The purpose of the project was not only to clean up a small section of the channel and seawall, but to begin quantifying the distribution and abundance of beads and trinkets associated with Gasparilla Festival activities in the area.
"This clean-up event was one of many that occurred throughout the region this past weekend and after Gasparilla festivities in January. What made this effort unique was that we were able to coordinate our NAUI (National Association of Underwater Instructors) network of scuba divers to address pollution issues that are beneath the waves and can often be forgotten due to an 'out of sight, out of mind' mentality," said NAUI Communications Coordinator and Gasp – Our Beads Co-Coordinator Angie Cowan. "That type of approach to pollution and water quality can have negative and short- and long-term impacts on the health of the bay."
When all was said and done, nearly 100 pounds of beads and 70 pounds of trash were collected along a stretch of the channel that covered approximately 1,000 feet along and about 75 feet out from the seawall. Volunteers included seven captains, 25 scuba divers, three kayakers, one paddle boarder, and about a dozen others who provided topside support. Other items of interest t
hat were collected included eight pounds of baseballs, an electronic tablet, walker, crab trap, dip net, toy car, step ladder, and an unopened bottle of champagne, perhaps a "sabering attempt" gone wrong.
Support for the project came from a number of local groups and residents who volunteered their time and ene
rgy to make the event possible. Donations included boat usage, fuel, scuba gear, and expertise in documenting the event and providin
g logistical support. Scientific divers from C4OE, including Director Erica Moulton, and The Florida Aquarium helped to coordinate the sampling, surveying and data collection. Eager to gain experience in conducting citizen science projects, University of Tampa marine biology students were on hand as well.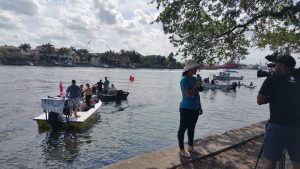 "I didn't really know what to expect or what we would find. Although the visibility was very low, we found so much debris, especially beads and trinkets. It felt really good to work with fellow community members towards a common goal. Not only did we get to help clean up the bay, but we also got to collect important data, some of the first of its kind. I look forward to learning more about these water quality issues and using citizen science in my future career in marine biology," said University of Tampa student Ally Marter.
C4OE began partnering with GDI several months ago when a brief conversation sparked an idea and generated questions about how the impact of plastic party beads and trinkets linked to Tampa's Gasparilla Festival, one of the largest events in the Tampa Bay region,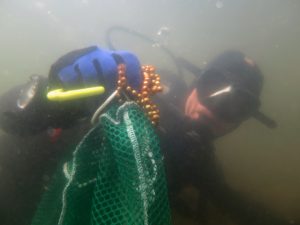 might impact coastal waterways.
"We were delighted to have the NAUI Green Diver Initiative and Center for Ocean Exploration as partners. The objectives of the Gasp–O
ur Beads project aligned perfectly with what we wanted to accomplish through the Hillsborough 100 Conservation Challenge. We look forward to working with them again in the future to continue the event and promote conservation, outreach and education efforts related to the health of our coastal waters," said Betty Jo Tompkins, Executive Director of the Hillsborough County Soil and Water Conservation District.
Based on preliminary research into the fate of festival beads, GDI and C4OE could not find that much underwater surveying or clean-ups have occurred, making the Gasp – Our Beads data some of the first of its kind, at least in the Tampa Bay region. Similar research related to Mardi Gras in Louisiana could provide the potential for more far-reaching collaboration and discussion of alternatives to plastic beads that sink. Options already being tested in some areas include biodegradable beads that would be less persistent in the environment and/or floating beads that could be more easily collected.
"We are proud to call Hillsborough County home and look forward to continuing to build collaborations within our community," said NAUI Executive Director Dallas Edmiston. "We hope our project will inspire other NAUI Green Divers to form partnerships in their region."
A special thanks to the Tampa Bay Estuary Program (TBEP) for their generous support. To find out more about the TBEP Mini Grant program, go to http://www.tbep.org/bay_mini-grants.html.
To learn more about this collaboration and get involved in future Gasp–Our Beads of Tampa Bay surveying and clean-up events, visit www.nauigreendiver.org or email nauigreendiver@naui.org.
You can also connect with us on social media: Facebook and Twitter @C4OE_Explorer and @NAUIGreenDiver.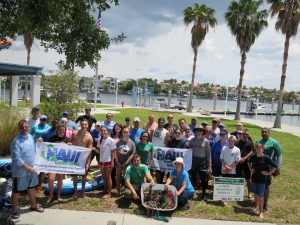 Additional Gasp – Our Beads of Tampa Bay coverage and articles:
https://issuu.com/timescreative/docs/hillsborough_100_2017_final
http://www.tampabay.com/news/environment/water/university-of-tampa-divers-help-pull-up-nearly-100-pounds-of-gasparilla/2322033