This Island Times blog was contributed by Ally Marter, a member of our SeaTrek BVI marine biology team.  Ally has been with SeaTrek for 4 years as a student, ShIP intern, and now as our Lead Biologist. She's also a SeaTrek/NAUI Divemaster!
"Hi my name is Ally," ("Hi Ally"), and I'm a fish-a-holic."
While I don't actually belong to "Fish-a-holics Anonymous" yet, it's a wonder my friends and family haven't staged an intervention at this point. To say that I love fish is an understatement; obsession is more likely the word I'd use. In fact, I plan to make a career out of my passion by becoming a marine biologist, and focusing on the field of ichthyology (the study of fish, of course). Although my love of fish started years before, SeaTrek gave me an outlet for my passion and helped me strengthen it even more!
I remember how excited I was, preparing for my first SeaTrek voyage 4 years ago. One of the things I was looking forward to the most was learning how to
scuba dive so that I could get up close and personal with all the fascinating underwater life of the BVI's (especially seeing the tropical fishes). Wanting to make sure I knew the names of the fishes that I would see, I created Virgin Islands fish species flashcards months ahead of time, and studied them frequently until my arrival at SeaTrek. It's difficult to convey how thrilled I was when I had the opportunity to go snorkeling for the first time and got the chance to test out my identification skills; to my exhilaration, I was able to identify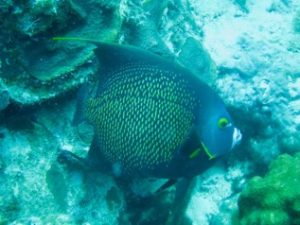 many of the fish that I saw! You can probably imagine my enthusiasm, then, when I started to participate in SeaTrek's REEF Fish ID survey program. Through this, I was able to practice and improve my fish identification skills even more, contribute to REEF's scientific database by counting fish populations, and earn community service hours all the while!
I realize that most people aren't as passionate about fish as I am, but I also understand that by knowing the names of what creatures you're observing underwater, it makes snorkeling and diving so much more interesting! By recognizing fish species, your underwater excursions are more memorable and there's a certain amount of pride that comes along every time you can name a fish. Of course, simply learning the name of a fish only begins to scratch the surface of ichthyology and understanding the fish as a whole (its behavior, anatomy, etc…), but it's a great start nonetheless! By knowing the name of a fish you make a connection with it, and in terms of ocean conservation, this is a great way to build interest and support! As conservationist Baba Dioum said, "In the end we will conserve only what we love, we will love only what we understand, and we will understand only what we are taught." Learning how to identify fish species brings us closer to understanding, and makes it easier to love and want to protect the underwater world!
Next summer I'll be joining SeaTrek again and working as their Lead Biologist, and the thing I'm looking forward to the most is sharing with students my passion for fish and all things ocean. You can be sure that I'll be teaching and emphasizing the importance of fish identification, hopefully creating some new fish-a-holics to join my ranks in the process.