This Island Times blog entry is the second in a series of personal essays illustrating how SeaTrek BVI and NAUI have impacted Kasey Fox, former SeaTrek student and intern, who is now a full time staff member, dive instructor and instructor trainer. We thank Kasey for this insightful and heartfelt look into her experience with SeaTrek BVI and NAUI.
After checking off the items on my SeaTrek packing list, it was time for bed. I had to wake up at 4:00 am the next morning to catch my flight to the British Virgin Islands to attend my second summer with SeaTrek. This summer, I was attending FATHOMS during Voyage I and then staying for Voyage II to complete my NAUI rescue and master diver certifications. One voyage wasn't enough for me my first summer so I convinced my mom to let me stay for six weeks. Though I felt as if I had to beg my mom, I knew she would let me go. After returning from my first summer at SeaTrek, she saw how much joy it brought me and the person I became after I was away.
My flight landed similarly to the previous summer. It was dark and bumpy. But I felt no fear, my only emotion was pure excitement.  I cleared customs and searched for someone wearing a blue shirt.  I couldn't wait for the day I got to wear one of those. After leaving my first summer, I knew that I wanted to apply to be an intern. Working for SeaTrek was my dream job.
Two people I didn't recognize wearing the famous SeaTrek blue tank tops approached me. "Hi, I'm Andi and this is Boswell!" She pointed to a tall guy who gave me a jolly smile but didn't say a word. Instead of gettin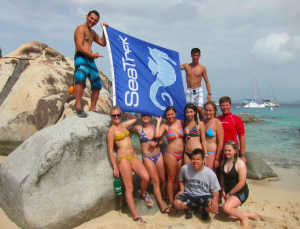 g into a taxi, we walked towards Trellis Bay, a short distance from the airport. Our vessel, SeaTrek Explorer, was moored there because the FATHOMS program followed a different schedule than SeaTrek's main program boats. We got in a dinghy and motored to my home away from home.
My original interest in attending SeaTrek started with a fascination in marine biology. Being from Colorado, marine biology related programs were not extremely abundant. When I heard that SeaTrek was creating a voyage that was focused in marine sciences, I knew I had to attend. I was a junior in high school the summer I did the first FATHOMS voyage. On this voyage I experienced what it would be like to be a real marine biologist. I learned professional research techniques in a hands on environment.
The information and techniques learned during the FATHOMS program are more valuable then anything I have ever learned in college. Bold statement, I know. But that is really how amazing this program is. This science intensive program affirmed my love for marine science, and gave me a true taste of what it is actually like to be a marine biologist. I left feeling confident and applied to the University of Colorado with a major in Ecology and Evolutionary Biology. I am currently in my last semester at CU studying biology while focusing on Conservation and Marine Science. Not only did I obtain endless knowledge on this voyage, but FATHOMS helped me to confirm my interests in a confusing transitional phase in my life.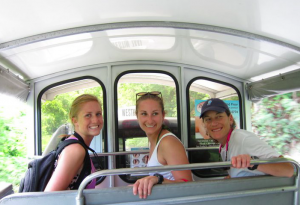 If you want to see where this awesome SeaTrek/NAUI story leads, keep an eye out for my next blog where I share the experience of being a SeaTrek intern and earning my NAUI Divemaster certification. 🙂 🙂