As all seatrekkers know, no two voyages are the same. Yes, I know what you are thinking every voyage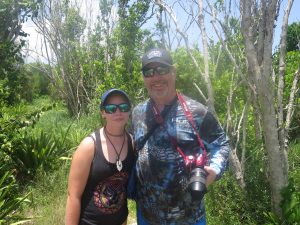 you sail, you dive, and you explore the marine environment, so what makes each voyage different? Well, you're correct to a certain extent. The core makeup of the program is the same, but just like the ocean, the experience is forever changing. Our well-trained staff works hard to provide a top-quality experience on every voyage. However, the differences lie in the students. Each voyage, a new melting pot of students, gets on board, and from there, the world is our oyster.
Over the summer of 2019, one student decided to stay with SeaTrek for all 3 Voyages. To ensure she did not miss out on any SeaTrek 2019 moments. Voyage 1, Victoria's summer adventure began with FATHOMS, a science-based program that takes students' passion for the ocean to a new level. During Voyage 2, Victoria took on the Leeward Island Explorer Voyage, one of SeaTrek's adventure-packed programs. Victoria spent her days diving, swimming, sailing, hiking dormant volcanoes, exploring, or just relaxing. Finally, Victoria rounded out the summer on our main program. Completing her NAUI Master Diver certification and celebrating her birthday with us.
Victoria's 17th birthday was one to remember as head chef, and owner of Roegels Barbecue flew in to surprise Victoria for her special day and feed the entire camp. Russell, better known as Dad to Victoria, is the owner of one of Houston, Texas, best barbeque joints. In honor of Victoria's special day, we rafted all the Voyage 3 program boats together and had a family-style meal. Brisket and sausages were served buffet style on Sailing Vessel Zumbrota, and salads, sides, and desserts were served tableside on each student's perspective boat. Victoria was quoted saying, "it was the best birthday ever." I think I can speak on behalf of the Voyage 3 staff and students and say BBQ on the boats was a hit.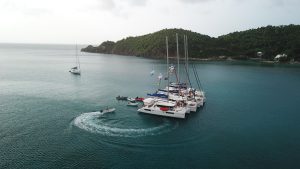 If you missed out on this delicious feast, there is no need to fret because Roegels Barbecues doors are open seven days a week from 11:00 AM to 8:00 PM. So, the next time you are in Houston, swing on in and say hello to some fellow SeaTrekkers. 
As well, Russell is hosting a SeaTrek Social on Jan. 31, 2020, from 6:00 PM -9:00 PM. Join us for a night of good food, good company, and good laughs. More details to come, stay tuned on Facebook, Instagram, and Twitter for more fun stories and events near you.