Captain Monk and Captain Kat Daniel
Monk and Kat bring to SeaTrek a wealth of knowledge of sailing, scuba diving and youth education. They both hold U.S. Coast Guard 100-ton Masters Licenses, are NAUI Course Directors, and are First Aid, CPR, and DAN Oxygen Administration Instructors. Their combined experience on live-aboard dive vessels spans 40 years in locations including the Caymans, Honduras, Mexico, Florida, Australia, Costa Rica, and Hawaii.

Captain Monk has over 30 years of experience on live-aboard dive vessels. He has developed and directed several student diving programs and served as a research diver and dive supervisor for Texas A&M University, San Jacinto College and the Flower Garden Banks National Marine Sanctuary.

Captain Kat has a B.S. degree in Physical Geography and a M.Ed. in Elementary Education from the University of Michigan. She teaches math and science at a private school in Michigan while raising three active kids. She is an avid sailor, having years of experience running world-class live-aboard dive vessels.
Captain Kelsey Hillman
Program Director, Scuba Instructor Trainer, Internship Coordinator, Captain
Kelsey was born and raised in Princeton Junction, New Jersey. However, she now resides in sunny Charleston, South Carolina, where she attended the College of Charleston and earned a degree in marine biology with a minor in environmental and sustainable studies. In her down time, Kelsey loves being outside enjoying nature while hanging out with her dogs and friends. Kelsey is a NAUI Instructor Trainer and intends to spread her love for the ocean through teaching others.
Anna Ortega
Science Consultant
Anna's love of aquatic life began by playing with snapping turtles in northern Michigan. Science was always her favorite subject, maybe because Captain Kat was her middle school science teacher! She's worked with sea turtles, wasps, eagle rays, bacteria, coral, and Great Lakes algae - but her favorite place to do science is at SeaTrek BVI. Anna got her bachelor's degree from the University of Michigan and is now she is working towards her PhD at the University of Western Australia. When she's not working on her sea turtle thesis, she's spending time in nature and helping prepare for another excellent summer of SeaTrek BVI.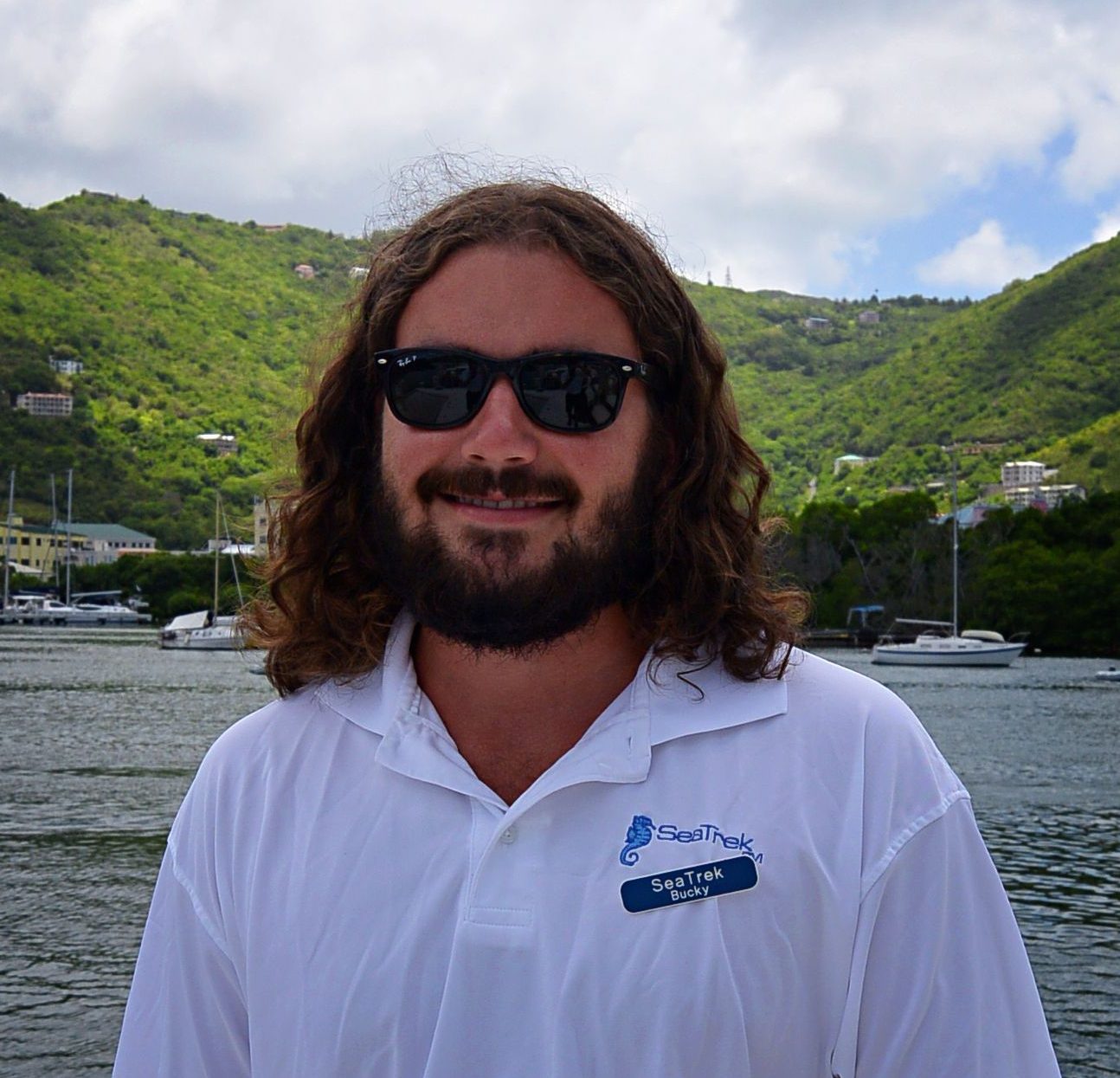 Captain Alex "Bucky" Buckner
Program Director, Captain, Scuba Instructor, Sailing Instructor
Bucky was born and raised in Memphis, Tennessee. He attended Christian Brothers High School in Memphis where he played football for four years and graduated in 2015. He now attends the University of Arkansas in Fayetteville and is majoring in Biomedical Engineering where he pledged to the Sigma Alpha Epsilon fraternity. Bucky has been with SeaTrek for three years, first as a student and then as an intern and full staff member. He loves the outdoors and spends most of his time fishing or cruising around Pickwick Lake in Mississippi. Bucky plans on attending Medical School after college and hopefully becoming an Orthopedic Surgeon to help athletes with injuries.

Captain Angie Cowan
Science Program Consultant, Captain, Scuba Instructor Trainer
Science, scuba, travel and education have defined Angie's life and career. While earning a B.S. in Biology at Colorado State University, she studied marine biology, anthropology, and conservation in Australia and Belize. In 2007 Angie earned her Teaching Credential and M.A. in Teaching from UC-Irvine and became part of the SeaTrek family. She was a National Science Foundation GK-12 Fellow while earning her M.S. degree in Earth and Environmental Science at Indiana University where her research focused on algal ecology and water quality. Since 2010 she has worked with the National Geographic Society as a curriculum writer/reviewer. In 2014 she was an adjunct faculty member with Indiana University Purdue University-Indianapolis and developed a Coastal Environments & Sustainability field course in the Virgin Islands. As long as she's in, near or under the water, all is well in her world.

Brittany Malin
Director of Marine Science
Growing up on a farm in Michigan allowed Brittany to adventure outdoors earlier than most. She had a four-wheeler by age 4, a pet duck, while most of her friends had stuffed animals, and her only fear was events that required shoes.
Brittany's love for the ocean was not at first sight. She visited the Great Barrier Reef and was startled by what she saw; fish larger than her, sharks by the many, and it did not help that her snorkeling skills were below average. Her fear soon turned to curiosity, then flourished when she spent three weeks diving in the Bahamas while in high school.
Brittany attended Nova Southeastern University in Florida and graduated in 2020 with degrees in Marine Biology, Dance, and Business. Brittany is a substitute teacher in Michigan and enjoys the perks of farm life while she is with her family. 2022 will be Brittany's second summer living at sea, and she can't wait to get back to living on the water! Brittany is looking forward to guiding SeaTrek students as they discover their passion for the ocean and the creatures that live within.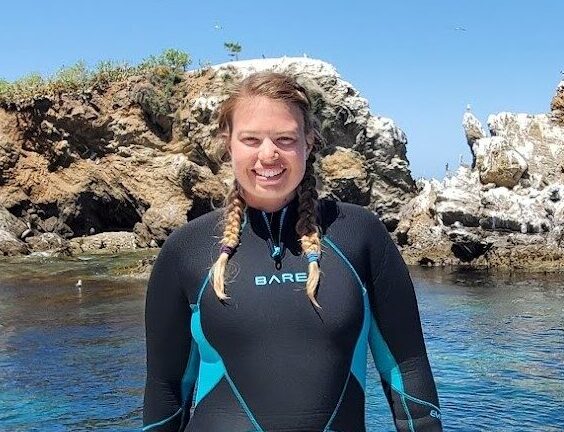 Allie Cain
FATHOMS Lead
Allie grew up around the ocean, living in California. She and her family would camp in Santa Cruz almost every weekend. Throughout middle school, she wanted to study the ocean. In high school, she took a marine science class, and that's what made her decide to study marine science in college. Allie went to the University of Hawaii Hilo where she obtained a bachelor's degree in marine science. During the winter months, Allie works as a marine science instructor at the Catalina Island Marine Institute on Catalina Island in California. Allie loves being on the ocean and looking for whales, dolphins, or sea turtles!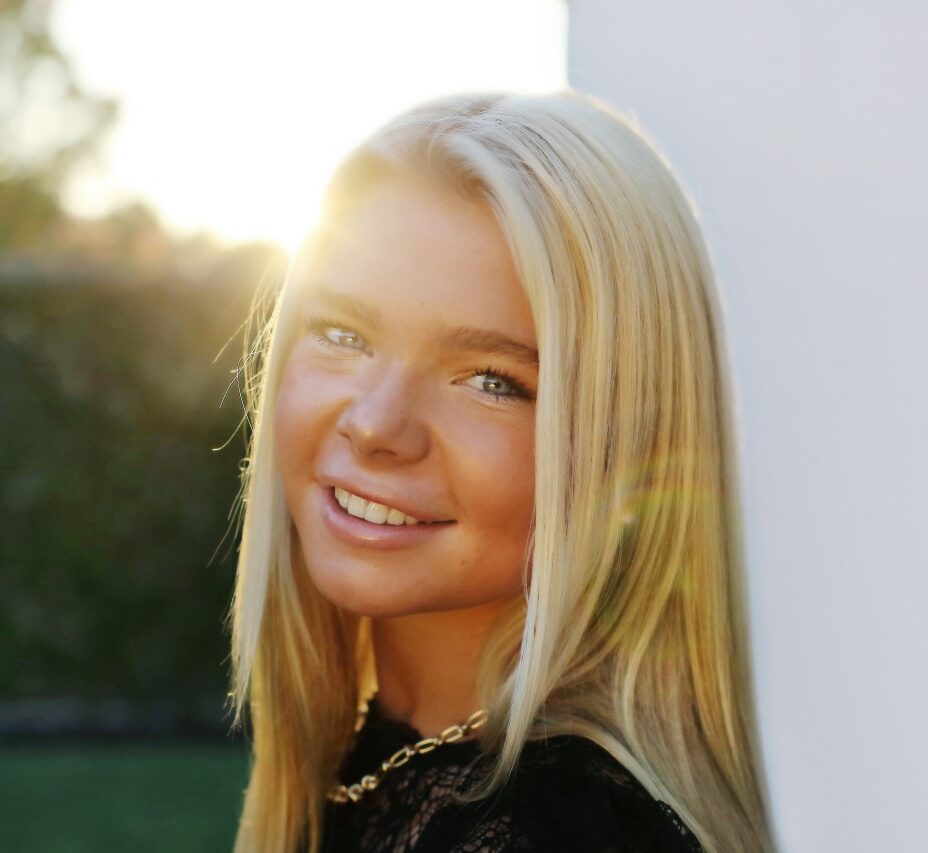 Captain Jessica Dickson
Captain, Divemaster
Jessica Dickson grew up in Houston, Texas, and is now living in Florida studying mechanical engineering at the University of Miami. She continues her passion for scuba diving by being a member of the UM Scuba Club. Jessica has been with Seatrek for over seven years, and she is now working as a NAUI Divemaster.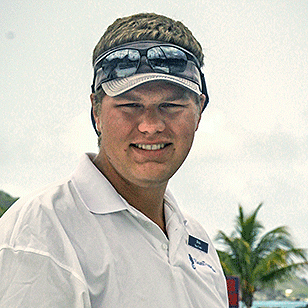 Captain Andrew "The Bos" Boswell
Captain, Scuba Instructor
"The Bos" has been with SeaTrek over 15 years and is a certified NAUI Instructor. He is a student at the University of Maine in Orono where he is studying English. Born in Dallas, Texas, he moved to Kennebunkport, Maine at the age of six and grew up exploring tide pools and scouring mud flats. He went through SeaTrek's ShIP internship program in 2011. Bos was also Capt. Monk's first mate for five summers. In addition to his first mate duties, his favorite job at SeaTrek is teaching his students and fellow staff members all about the inner workings of the boats.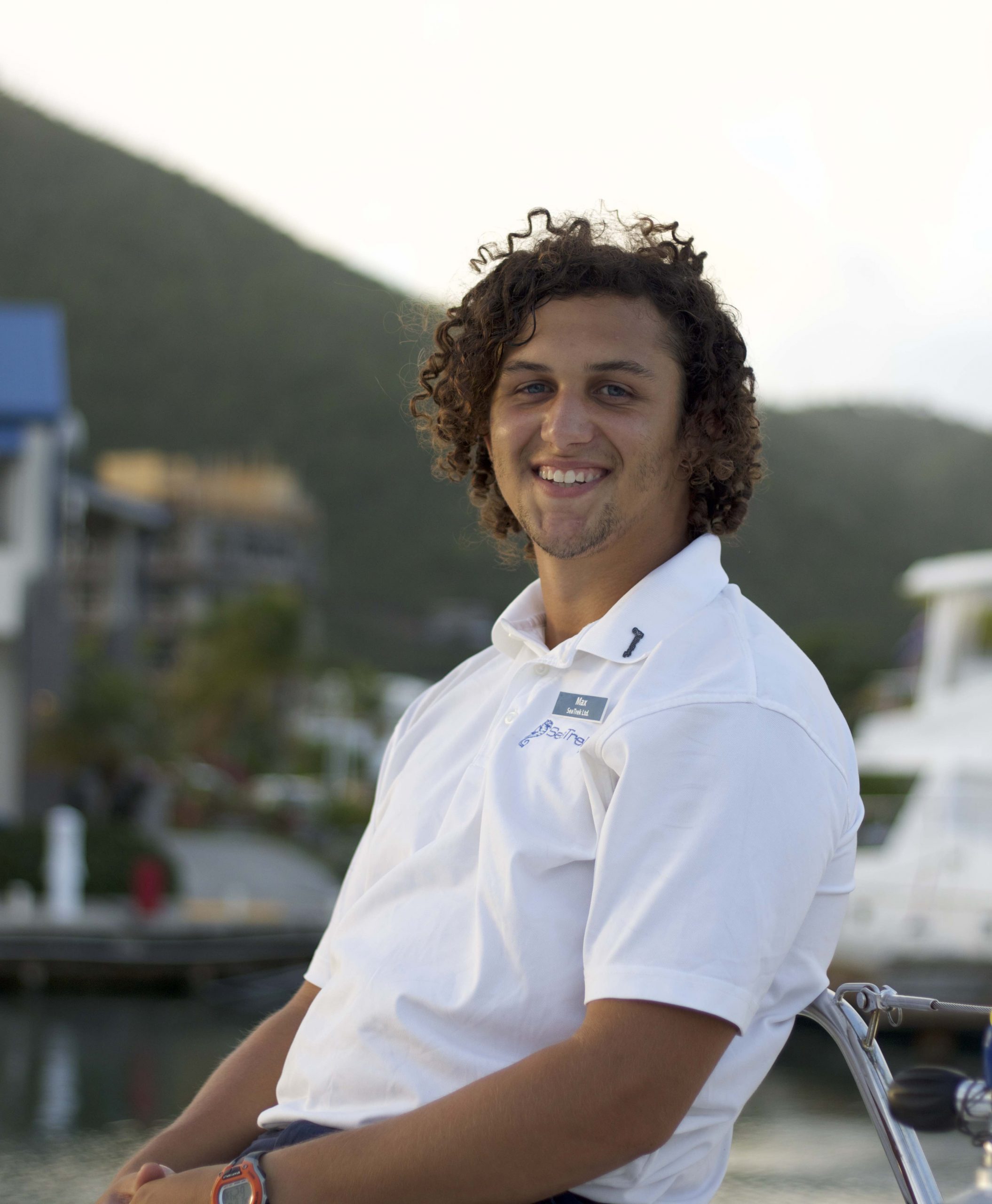 Captain Max Klemm
Captain, Boat Biologist, Scuba Instructor
Max has been passionate about ecology and biology since he was 5-years-old running around the Shedd Aquarium in Chicago. His hobbies while on the boat include practicing his invertebrate identification and looking for sea turtles. He is currently double majoring in History and Philosophy of Science and Environmental Studies at Case Western Reserve University. Max started at SeaTrek as a student in 2015 and worked his way up going through our ShIP intern program, eventually joining our biology team. Science presentations are Max's favorite part of the voyage because it's good practice for being a high school teacher, which is what he aspires to be someday.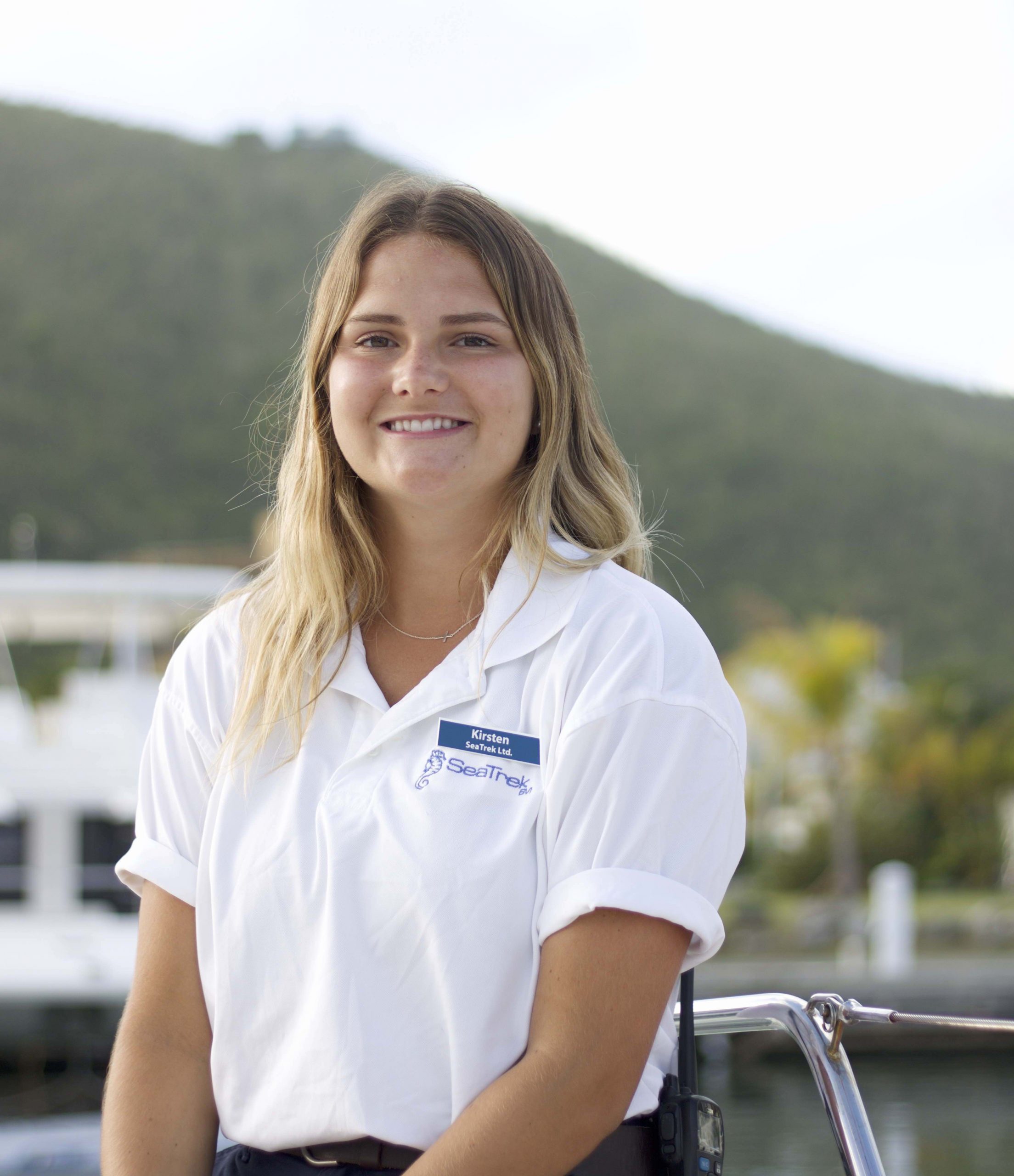 Captain Kirsten Kendler
Captain, Scuba Instructor
Kirsten is from Chicago, Illinois and graduated from Adlai E. Stevenson High School. She is extremely passionate about soccer and has played at the highest level in the U.S. Development Academy. After facing some setbacks as a busy athlete, Kirsten hopes to become a physicians assistant for an orthopedic surgeon so she can help other injured athletes. Since she was a toddler she has been traveling to the BVI and in love with the water and swimming with the fish. Kirsten has been part of the SeaTrek family for several years and has tried it all! She has voyaged on the Bahamas Explorer and Leewards Explorer trips and is now working on main program in the BVI. Kirsten loves working with her students and can't wait to be back in the water teaching and earning her NAUI Instructor certification.
Audrey Goldfield
Photographer, Divemaster, Assistant Internship Coordinator
Audrey is from Raleigh, North Carolina, and is currently getting a BS in Marine Biology at the University of St. Andrews in Scotland. Her adventurous spirit is what first drew her to SeaTrek, and she has spent many years as a student, intern, and staff member. Audrey is passionate about photography, scuba diving, sailing, and marine biology, and her summers spent at SeaTrek have been some of the best times in her life. Her favorite part about her job is getting to see so many smiling faces every day!! Audrey is looking forward to another summer of adventures and fun!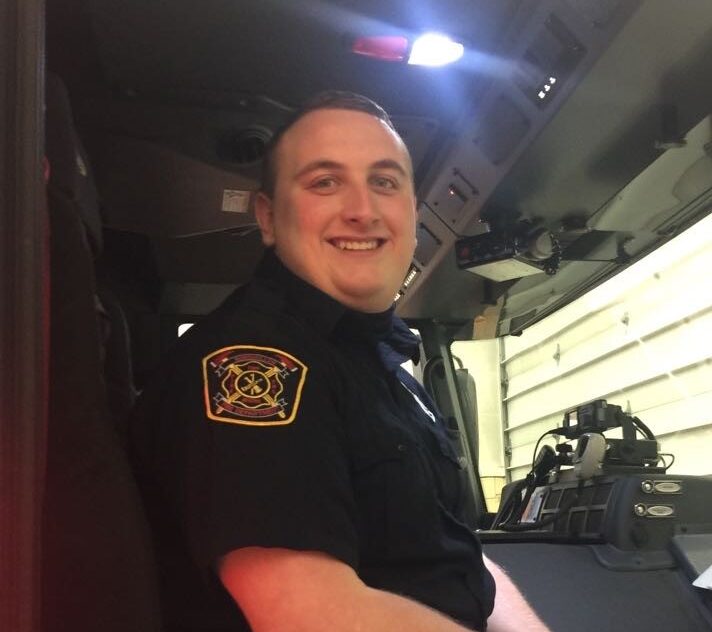 Cody Clark
Medical Officer, Divemaster 
Cody resides in the great state of Ohio. In 2019, he graduated from the Bio-Med Science Academy. Cody is currently studying at Stark State College. He is eager to expand his knowledge and is enrolled in emergency fire services, emergency medical services, and paramedic courses. In his downtime, Cody enjoys snowboarding, kayaking, and any activity that takes him outdoors. SeaTrek is excited to have Cody back on board for a second summer.

Certifications: American Red Cross Lifeguard Instructor, Water Safety Instructor, Outdoor Emergency Care, Paramedic, Advanced cardiac life support (ACLS), Pediatric Advanced life support, Firefighter Level II
Joseph Dyer
FATHOMS Lead
Joseph's fascination with the ocean started very early. From a young age, Jo dreamed of becoming a marine biologist, but that dream wasn't effortless growing up in the landlocked area of Nashville, Tennessee. Upon graduating high school, Jo moved to Rhode Island, where he worked hard and received a bachelor's degree in marine biology from the University of Rhode Island. Jo is now pursuing a career in education. He loves music immensely, so you'll always find him dancing! His favorite part about SeaTrek is meeting all the smiling new faces wanting to know more about how to help our oceans!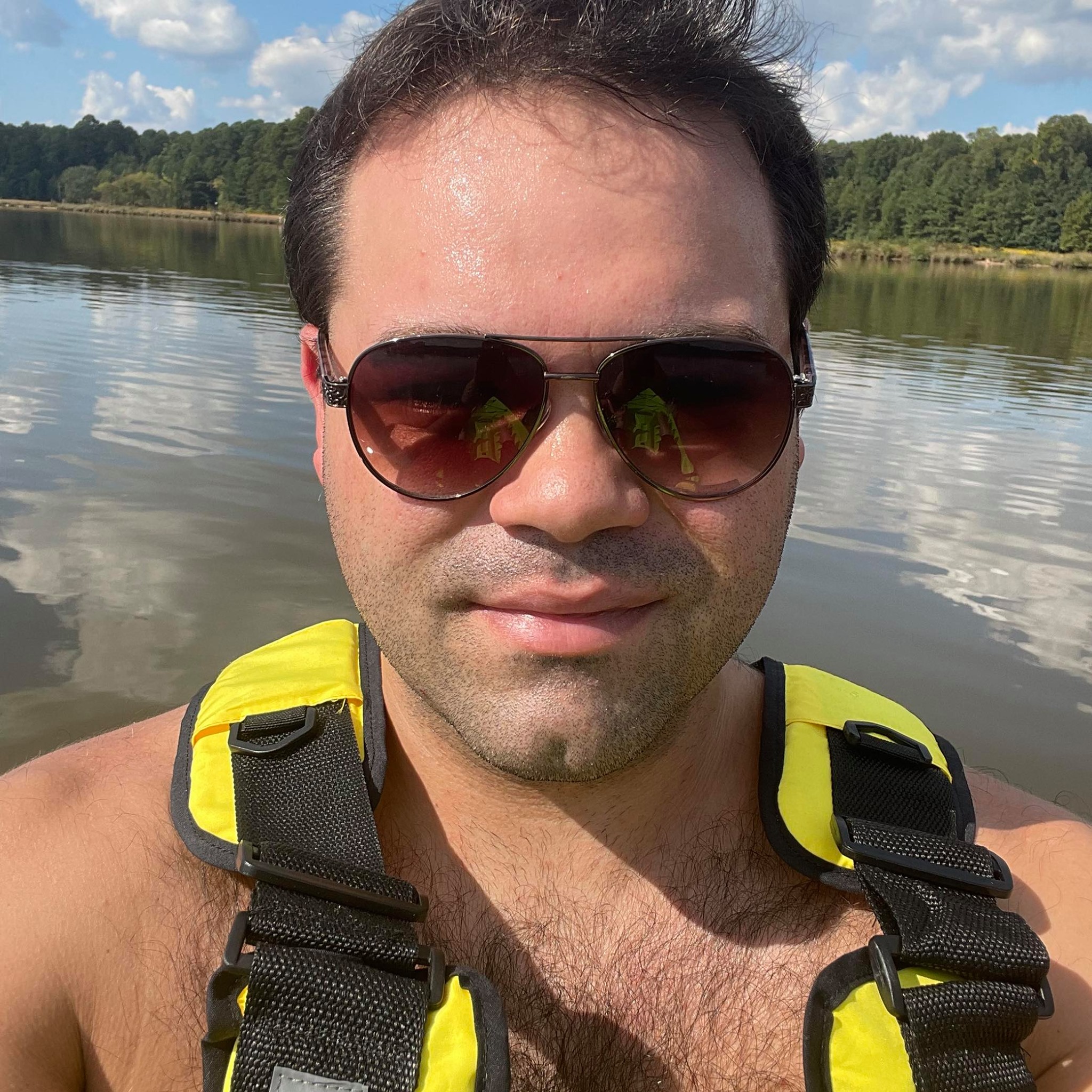 CJ Phillips
Bahamas Medical Officer
CJ currently lives in the beautiful Outer banks of North Carolina. He graduated from a small private medical college with a degree in Paramedicine and a concentration in public health education. CJ is currently a caregiver for home health. In the early years of his career, CJ worked in the Emergency room and for 911 as a paramedic. CJ volunteers for the North Carolina court system as a child advocate, the North Carolina aquarium, and the local Humane society. Some of his favorite activities in the BVI are Turtle tagging, scuba diving, hiking, and sailing. CJ has been a Bahamas Explorer voyage staff member for several years, so he knows some of the best locations to explore.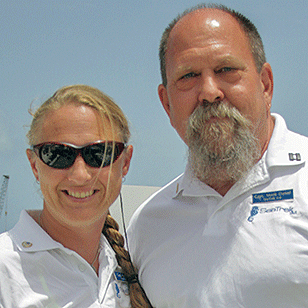 Captain Monk and Captain Kat Daniel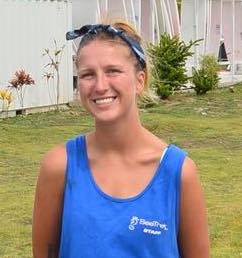 Captain Kelsey Hillman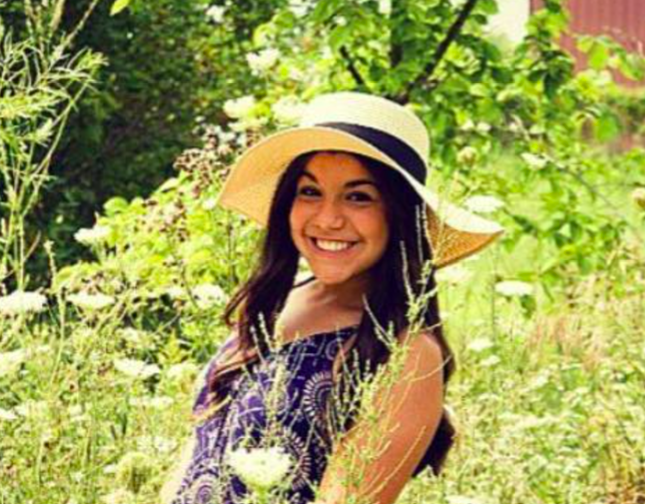 Anna Ortega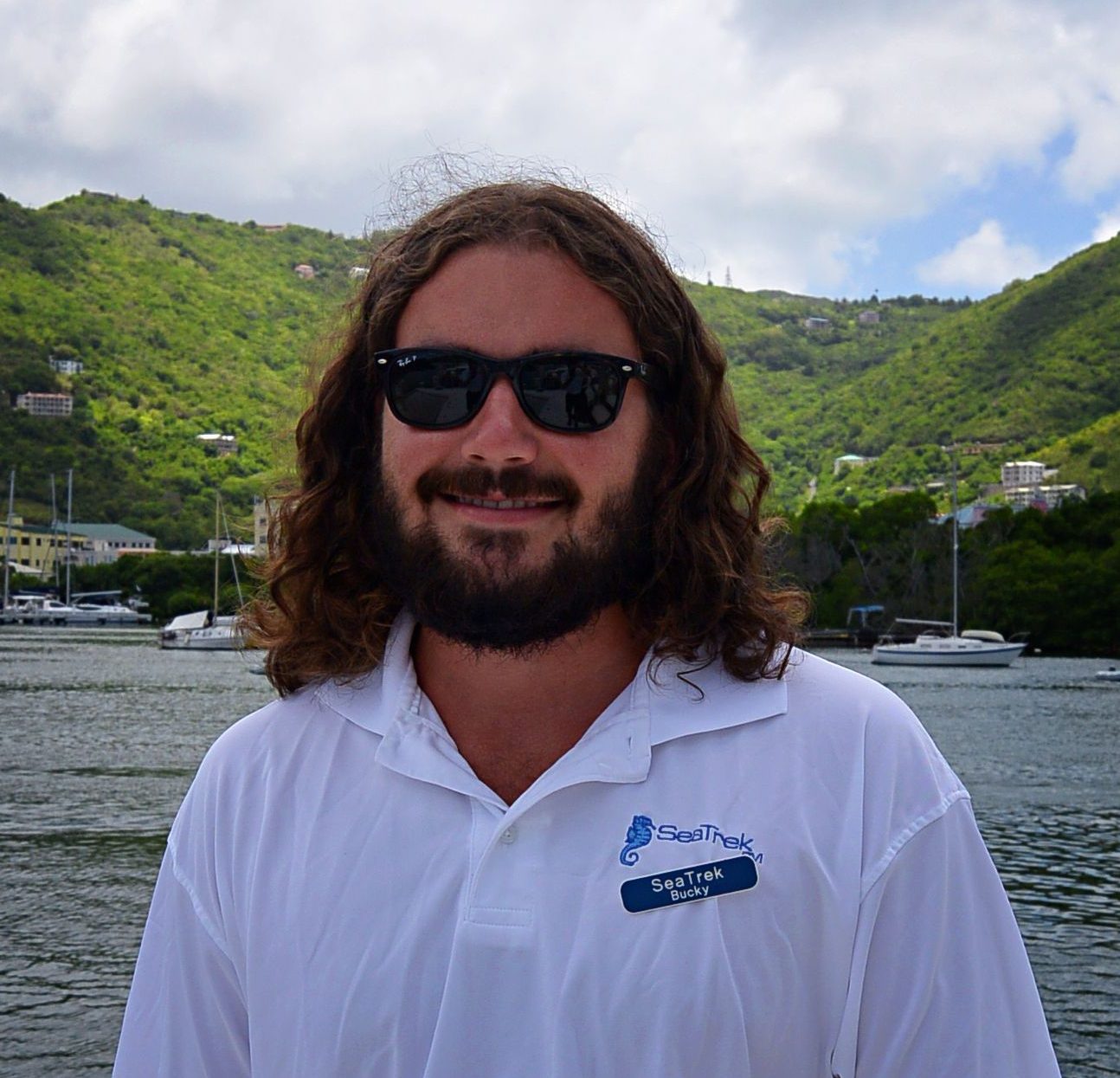 Captain Alex "Bucky" Buckner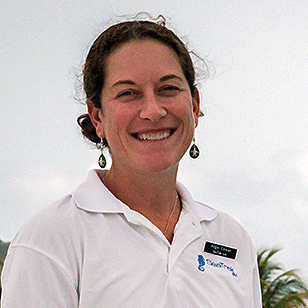 Captain Angie Cowan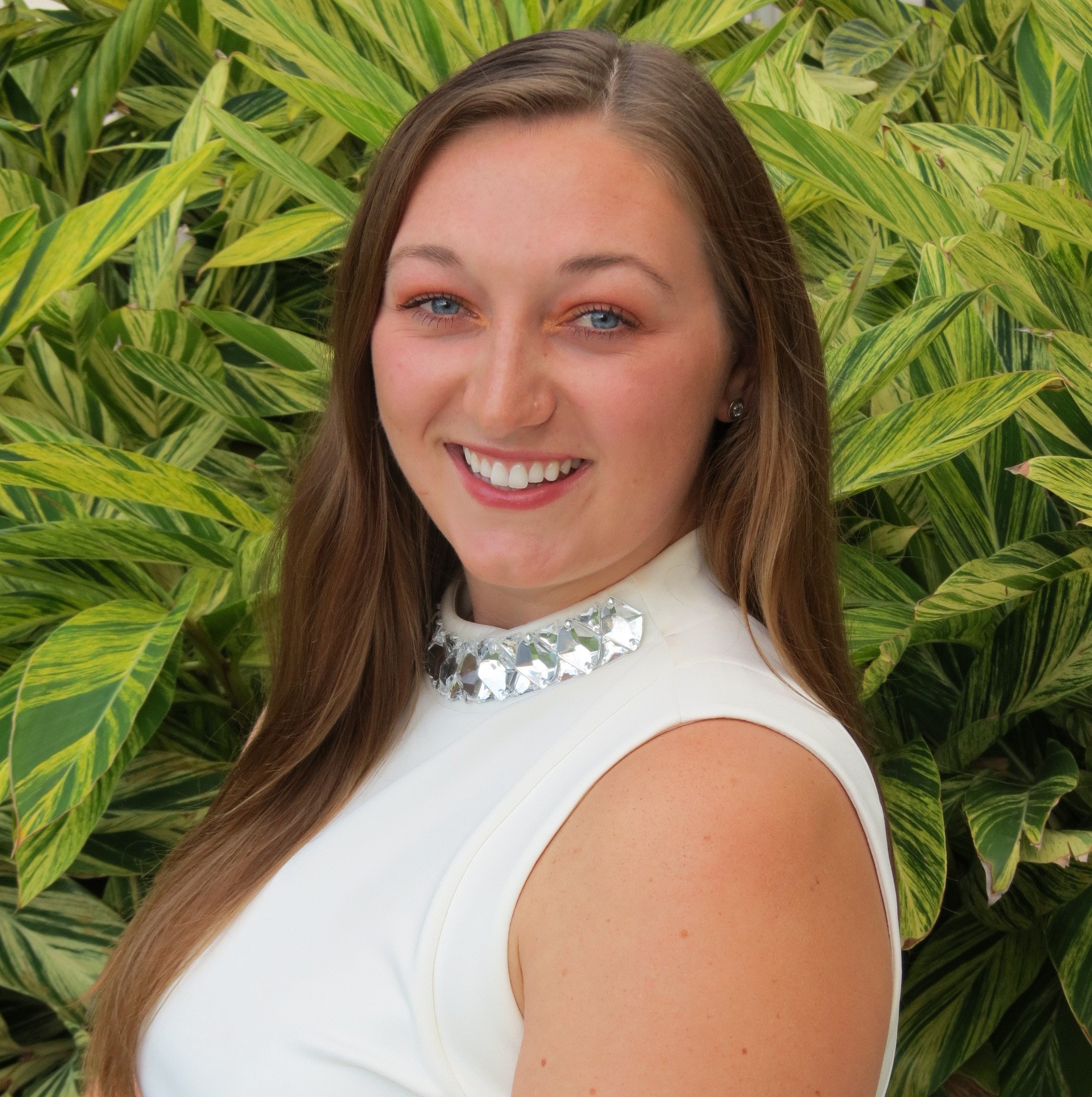 Brittany Malin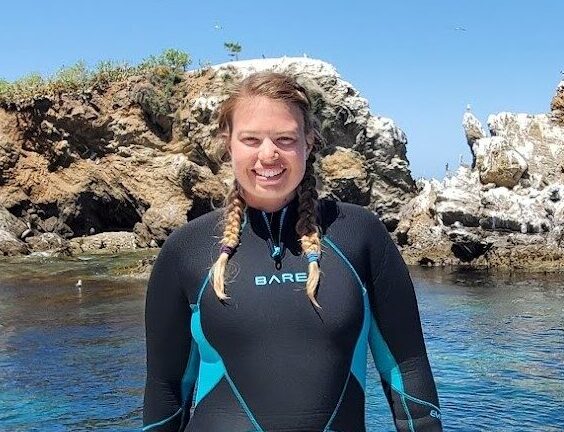 Allie Cain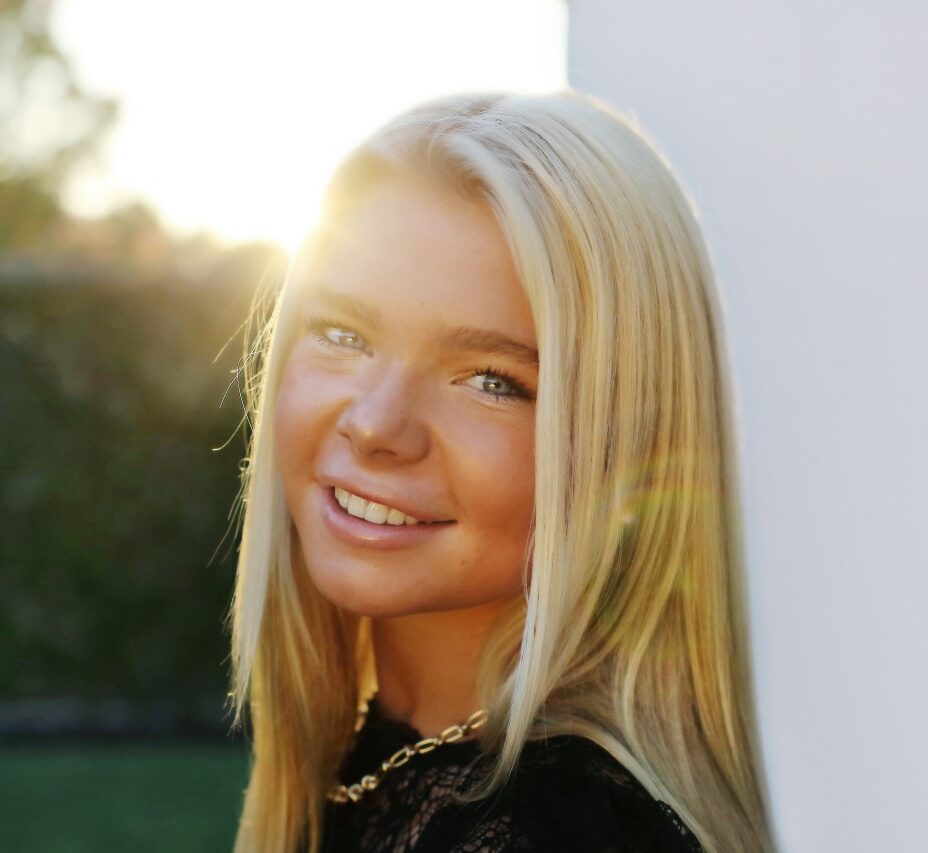 Captain Jessica Dickson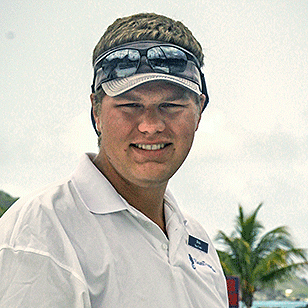 Captain Andrew "The Bos" Boswell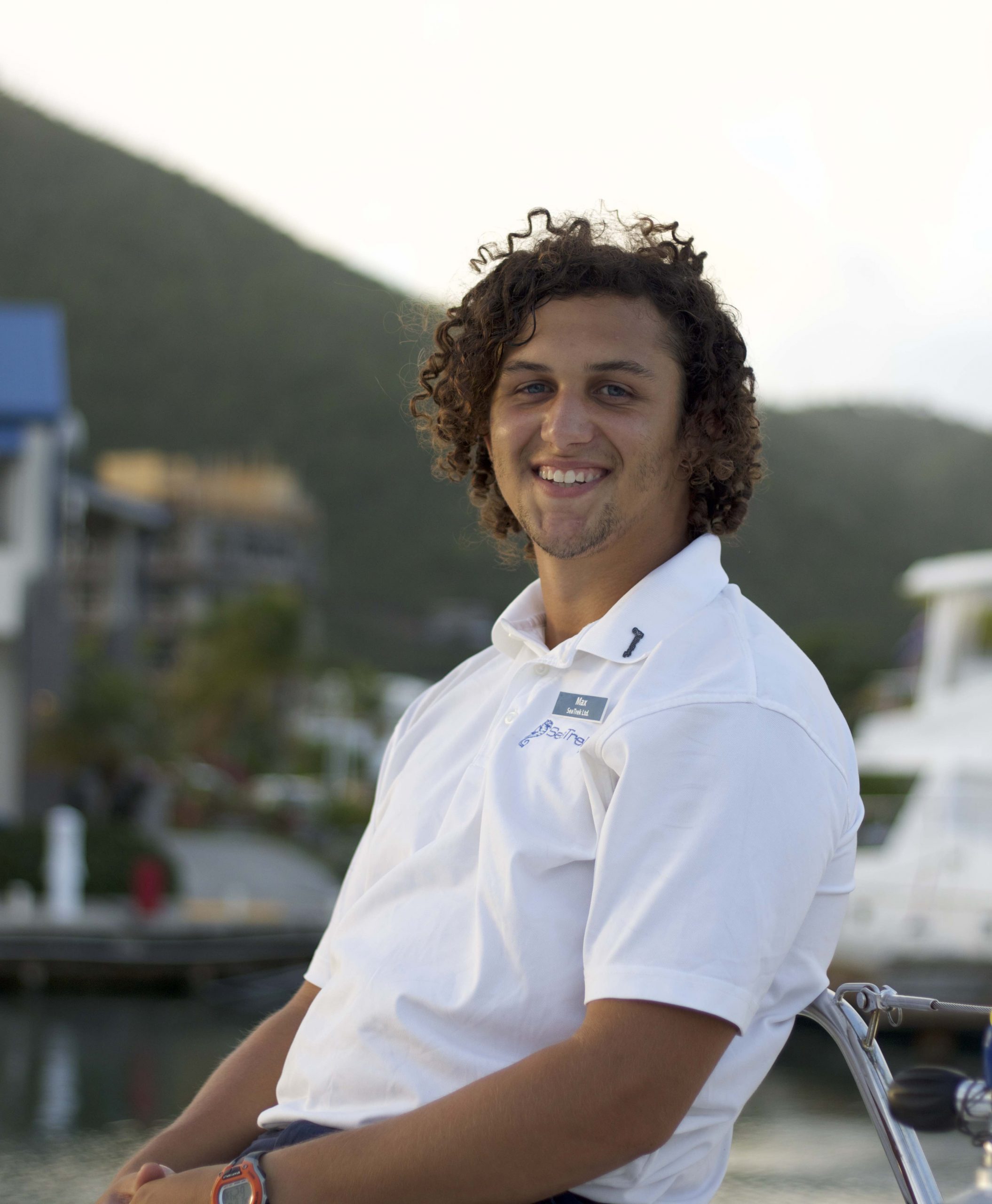 Captain Max Klemm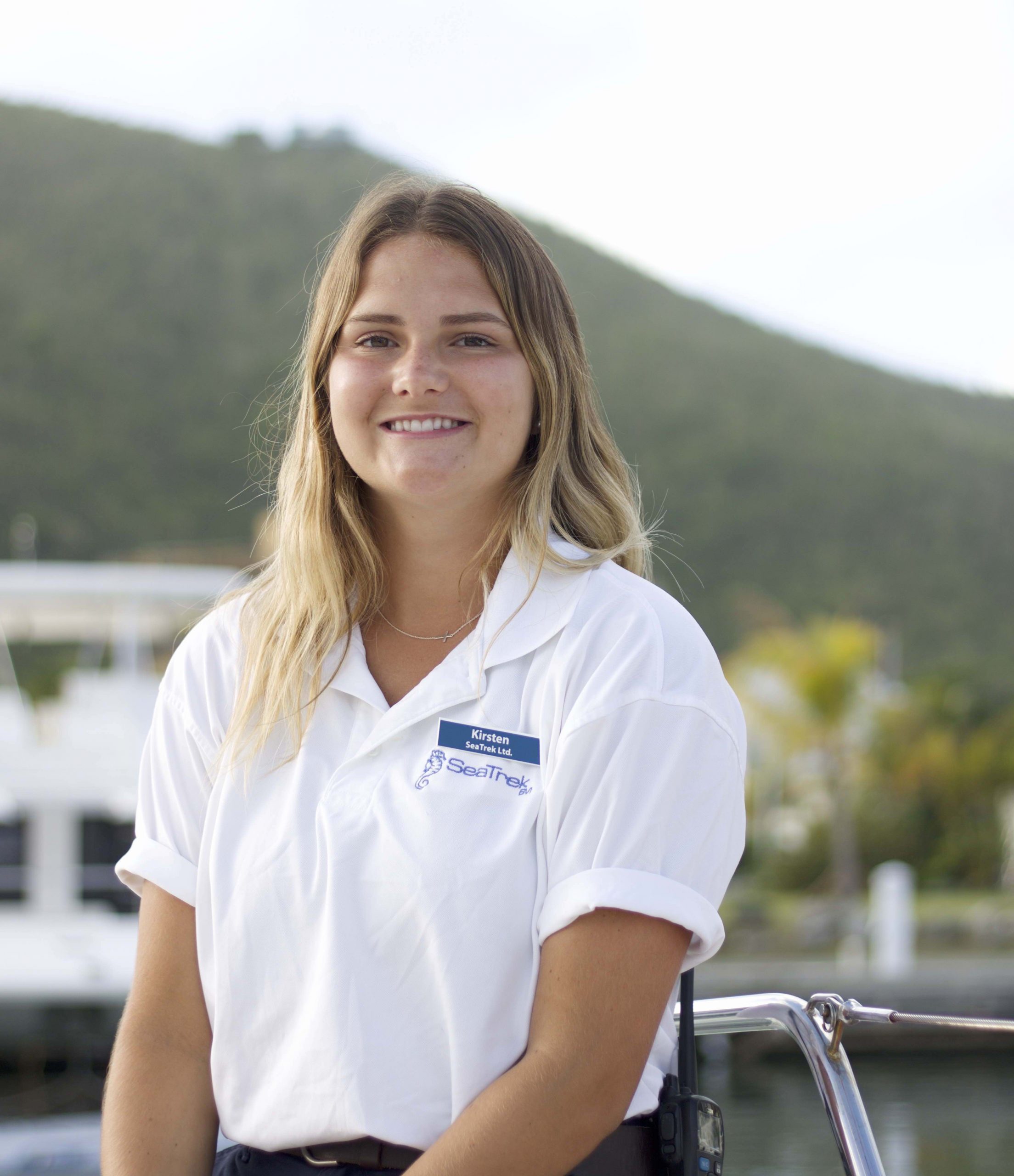 Captain Kirsten Kendler
Audrey Goldfield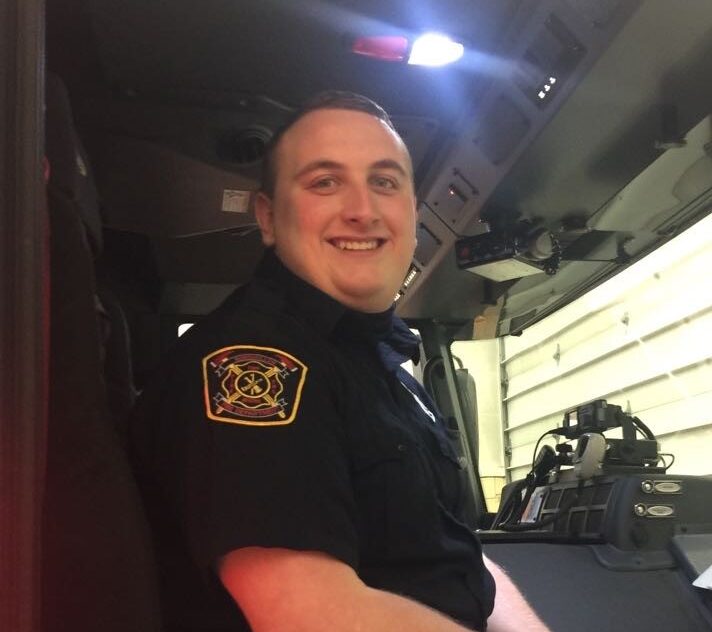 Cody Clark
Joseph Dyer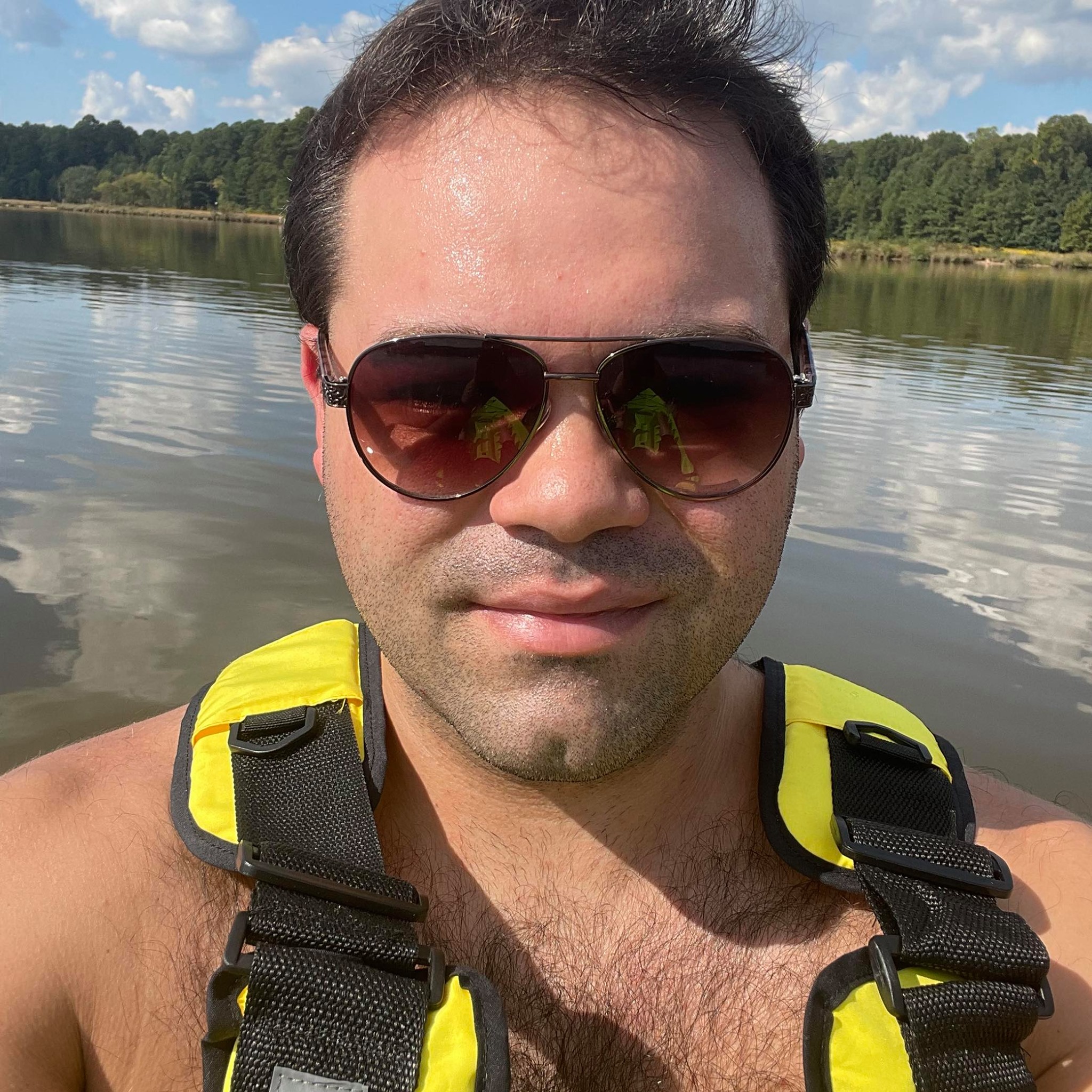 CJ Phillips
Email link for staff to use while on the road